Surprise! Bev actually DOES give a 'frack'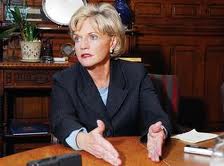 Remember that speech where our esteemed governess — ahem — "joked" about suspending congressional elections so the honorables could do "the right thing" without having to worry about political repercussions?
Well, now that Bev is not running for reelection — and doesn't have to carry water for the Chapel Hill-Carrboro crowd — SHE appears to be ready to do "the right thing" in terms of energy exploration in North Carolina.
Leftists are wetting their beds over a "secret trip" Bev took to Pennsylvania — paid for by the energy industry — to learn more about the process of fracking.   Fracking — a specialized form of energy exploration and extraction — is going full-steam in Pennsylvania and providing SOME positive economic news in that state amidst this nightmare of an economy:
Months after she vetoed a bill that would have allowed test drilling for natural gas in central North Carolina, Gov. Beverly Perdue said Wednesday that she believes drilling can be done safely in the state.

Perdue recently traveled to Pennsylvania for an industry-sponsored tour of large-scale natural gas drilling operations.

"It's jobs. It's a fuel source produced in this country, and it's something that can help America and North Carolina be globally competitive," the governor said. […]

Perdue said that, based on what she saw on her trip, she believes that North Carolina could benefit from the best drilling practices. It makes sense to tap local energy sources as long as regulations are in place, she said.

"From what I saw, fracking can be done safely if you regulate it and put fees in place to have inspectors on the ground," she said. "I think the challenge for us will be to determine the capacity of our supply and whether the folks who live in this community are willing to move forward."

A recent study commissioned by the state Department of Environment and Natural Resources found that North Carolina hasn't developed policies and procedures in anticipation of regulating oil and gas exploration and production activities.

Lawmakers ordered DENR last year to study energy exploration in North Carolina, including fracking. DENR officials are expected to release a draft report of their findings in the next few days.

The Sierra Club decried Perdue's statements, saying she should have waited for DENR's report before expressing support for fracking.

"There are serious concerns about what fracking could mean for our air and water. The governor should let her own departmental experts complete their study before rushing into a decision with such vast implications," Molly Diggins, state director of the North Carolina Sierra Club, said in a statement.

Perdue noted that natural gas prices are so low that companies are less likely to rush to states like North Carolina because it's not a profitable investment for them.
El Rushbo compared Bev's about-face on her leftist friends to showing a cross to Dracula:
Speaking of fundraising and playing to the base, a fascinating little story here out of North Carolina involving Dumplin'. The governor there, that's her nickname, Bev Perdue, she is now backing — folks, this is not insignificant. This almost approaches the profound. North Carolina Governor Beverly Perdue has decided to support fracking in North Carolina. That's a new kind of drilling for oil and natural gas, and that's like showing Dracula the cross. The liberals hate fracking. The Democrats, the media hate fracking. They hate the recovery of oil. They are totally opposed to it.

Now, why would Governor Perdue be all for it now and just months ago totally opposed to it? Well, I'll tell you why. She's not trying to hold her base for reelection any longer. She's not running for reelection so she doesn't have to do things to keep the fringe kook Democrat base together. If she were running for reelection she would not have changed her mind on fracking. She would still oppose it. But now that that's not a concern and now that she doesn't care what the Democrat Party base thinks, she's going to do for her legacy, for her reputation, for what's written about her after she's no longer governor, she's now gonna do the right thing. She's now gonna allow fracking for natural gas, because, by her own admission, it's jobs. It's a fuel source produced in this country. It's something that can help America and North Carolina be globally competitive. […]

None of that mattered when she was running for reelection, and this is the thing about Democrats. Jobs, doesn't matter. A fuel source produced in this country, doesn't matter. Something that can help America and North Carolina be globally competitive, doesn't matter. In fact, if you're for those things, you will anger the Democrat Party base. What does that stay about that party? But now that she doesn't need votes, now that needs a legacy, now that she wants wonderful things written about her governorship, now she's going to do the right things. The Democrat Party base, fringe Alinskyite, Marxist leftists that they are, are the number one impediment to progress in this country. They and their elected officials, no question about it.
The leadership on Jones Street needs to take advantage of this spell of "good sense" that has overtaken our governess.  Let's override some more vetoes, and push through some tax cuts while she's feeling all sensible-like.
Perhaps this could be part of a payback campaign aimed at the leftist / union / Obama crowd that pushed her into retirement.   Hmmm …. 
(If so, let's hope this is ONLY phase one ….)