Speaking of holding feet to the fire …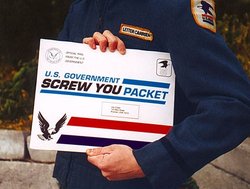 You might have a real good chance to give it a try REAL SOON.
My old comrade-in-arms Terry Jeffrey, is offering up details suggesting that GOP leaders on Capitol Hill REALLY didn't understand what we said with our votes last Tuesday:
Will the congressional Republican leaders—House Speaker John Boehner and current Senate Minority Leader Mitch McConnell—work with out-going Senate Majority Leader Harry Reid to fully fund Obamacare in a lame-duck session of Congress before the newly elected Republican majorities in both houses can be seated?

If you listen to what House Majority Leader Kevin McCarthy was saying leading up to Tuesday's elections that is what they will do.

"My belief is you have one chance to make a first impression," McCarthy told Politico in an interview published on Oct. 26.

"From the very first day after the election, we should be laying out to the American public what the expectations are. Why make two different agendas?" McCarthy said.

Politico then made this observation: "McCarthy is intently focused on the first few months in session, which he sees as critical for his agenda. He would like to use the lame-duck session to pass a long-term government-funding bill, so Washington can begin focusing on big-picture legislating, instead of just trying to keep government's doors open."

"If we are fortunate to have both majorities, take away any cliff you can have hanging out there," McCarthy told Politico. "If you have a cliff, it takes attention away. Why put cliffs up that hold us back from doing bigger policy?"

The current continuing resolution, passed by Congress on Sept. 18, funds the federal government through December 11. Republican leaders knew when they passed this bill they were giving themselves–and their Democrat incumbent colleagues–the power in lame-duck session to preempt the Congress that was elected yesterday by passing a long-term funding bill for 2015 before that Congress could be sworn-in.

The CR passed in September fully funds implementation of Obamcare—including the "preventive services" regulation that requires health-care plans to provide co-pay free coverage for contraceptives, sterilizations and abortion-inducing drugs. (Under this regulation, Christian individuals and non-profit organizations are forced to act against their religious beliefs by buying or providing access to health plans that cover abortion-inducing drugs.)

The current CR also permits federal funds to continue flowing to Planned Parenthood.

If the Republican leadership insists on passing a long-term government funding bill in the lame-duck session of Congress, as Leader McCarthy recommends, they will need to work with Harry Reid (instead of the incoming Republican Senate leader) to pass it. If a long-term funding bill enacted in the lame-duck session funds the government through the end of fiscal 2015—which ends on Sept. 30, 2015—it will deny the incoming Republican majorities in both houses any ability to use the funding of any agency of government to reverse policies put in place by the Obama administration.

It will relieve the incoming Congress of any responsibility for substantively combating President Obama on significant public policy issues. They will be able to symbolically pass free-standing non-funding legislation and the president will be able to symbolically veto that legislation with fear of losing funding for Obamacare or any other policy he is pursuing.

For example, if in the next few weeks Obama unilaterally declares an amnesty for large numbers of illegal aliens in the United States, the Republican House could refuse to enact a government funding bill that permits funding for the implementation of that amnesty.

But if the Republican House passes a long-term funding bill in the lame-duck session that funds the government through fiscal 2015 that does not prohibit funding for the implementation of an amnesty, the Republican House will be effectively funding that amnesty and removing from the incoming Republican-majority Congress significant leverage over the issue.

By using a lame-duck session to work with Harry Reid to fund everything Obama wants through the end of fiscal 2015, Republican leaders will be assuring that the incoming Republican Congress will be—through its first year at least—a do-nothing Congress.

It may be a Congress full of sound and fury, but it will accomplish nothing.
Gee. We voted for change like in 2010, but — like in 2010 — it appears we are enroute to getting more of the same ol' bull-hockey.  if you happen to encounter any of our elected Republican honorables, explain to them that you,um, profoundly disagree with these plans for the lame duck  session. (Here is the contact information for our current delegation to Washington. Even though Hagan, Coble, and McIntyre will not be back next year, they will be involved in the lame duck session.) 
Burr, Hudson, McHenry, Pittenger, Meadows, Holding (who I hear has senatorial aspirations), Ellmers, Jones, and Foxx especially need to hear from you loud and clear.They face the voters again in 2016.  Our responsibilities — if we are serious about saving our country — DID NOT end on November 4.
Let's get to work, people.