Signs, signs, everywhere signs …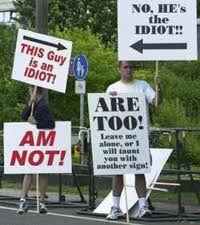 You can tell it's campaign season throughout the Sandhills. Signs are starting to pop up on the landscape, and people are starting to complain about them.
In today's Fayetteville Observer, there is an item about The City of Fayetteville cracking down on problems associated with political campaign signs.  Of course, there are some complaints about the city's tactics:
Fayetteville is cracking down on campaign signs that are too big or too close to the road.

Last week, candidates for Fayetteville races each received a letter from the city explaining the rules for campaign signs and gave this warning: "Signs placed in unauthorized locations will be removed and disposed of."

So far, about 50 political signs have been seized by code enforcement officers, city spokeswoman Jennifer Lowe said Friday.

Fayetteville's primary is Tuesday, with the mayoral race and three district races on the ballot.

Every election season, political signs appear in yards and near intersections to attract voters' attention.

But candidates don't always know the rules or follow them, according to city officials.

Complicating matters is the passage this year of a law that allows campaign signs in highway rights of way on a limited basis.

But city officials told candidates in the Sept. 26 letters that local rules on sign placement pre-empt the law, and the city doesn't allow yard signs on any public property, right of way or "attached to a pole, tree, fence, rock or another sign."

Signs can't be more than 16 square feet in area or 8 feet tall; in the downtown district, the signs have to be even smaller. City code allows political yard signs to go up 60 days before the dates of a primary or general election. The signs must be removed within 10 days after either election.

One municipal candidate said the city hasn't acted fairly by removing some of the signs.

Jason Brady, running for a District 6 seat, said the city initially told candidates in a letter that they could place signs along state-maintained roadways. He said he installed signs under that premise.

Then he got the city's follow-up letter Sept. 26, telling candidates to disregard "any other information you may have received from the city regarding political signs" after the city's legal staff reviewed Senate Bill 315, the legislation that became law.

What makes the confusion worse, Brady said, is his district is one of the few with a primary Tuesday.

Incumbent Bill Crisp and challenger Jeffrey Long are also vying for the District 6 seat.

Brady said one sign taken by the city had been placed on private property, out of the right of way, with the owner's permission.
We had a similar controversy here in Pinehurst in 2007 about municipal workers pulling up campaign signs.  Preserve & Protect Pinehurst, a group backing a ticket of candidates  for village candidates, complained that village workers were removing signs promoting P&PP candidates but leaving alone those promoting incumbents.
There has been some debate on how effective campaign signs really are.  Sure, they do a good job of reminding voters that it will soon be time to head to the polls.
Some campaigns like to seek out locations where their opponent has signs posted.  They will proceed to put fifty of their signs around that one sign promoting their opponent.  The campaign may think they stuck it to their opponent. In reality, they have created a situation where voters see clutter, instead of an advertisement for a certain candidate.
I've worked as an adviser to campaigns at the presidential, U.S. Senate, U.S. House, state legislature and local levels.  I've also covered campaigns at each of those levels as a journalist.
From my years of experience, signs in someone's yard make more of a difference than signs on a road shoulder.  Signs in a yard indicate that you have the voters in THAT home committed to your campaign.  Signs on the road shoulder actually do very little to benefit your campaign.
I saw a study in 2006 examining various media sources in Moore County and their effectiveness in reaching voters / consumers.  Mailers and Radio (Star 102.5) came out #1 and #2 respectively.  Personal contact came in #3. Ads in The Pilot came in a distant fourth.  The study has been vindicated. Since that time, candidates who have emphasized #1 and #2 and #3 in their marketing campaigns have done much better than others who chose lower ranking options.   (In 2004, SpeakerrrRichardMorgan™ purchased so much ad time on Star 102.5, you would have thought the station had changed its format to "All-Richard, All-The-Time." )
Think about it:  Star 102.5 is EVERYWHERE.  You reach the parents driving their kids to school or picking them up.  The station is played all day in offices and in shops on Broad Street.  A lot of local businesses use it as their on-hold music.