Rubio for President co-chairman Robin Hayes takes credit for Trump's NC success
That's right.  Just a few months before being installed via coup as NCGOP state chairman,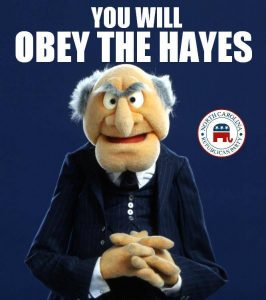 Robin Hayes was appointed North Carolina co-chairman of the Marco Rubio for President campaign.  
Now, just days before delegates choose between Hayes and challenger Jim Womack, the state GOP HQ sends out a release touting Hayes's "Oval Office meeting" with President Trump.    :
Today, North Carolina Republican Party (NCGOP) Chairman Robin Hayes met with President Donald Trump in the Oval Office and discussed the North Carolina Republican Party's ongoing efforts to support the Trump policy agenda and the path to victory in North Carolina in 2018 and 2020. He also had lunch with White House Chief of Staff Reince Priebus and White House Political Director Bill Stepien. Hayes was part of a small group of GOP State Chairs from high performing states that have built some of the most successful turnout models.[…]
First of all, if you look at the photos that accompanied the release, they are not in The Oval Office.  Second of all, I can see at least FIFTEEN people in the one wide-angle photo.  (That's not exactly intimate. And I can't even see Trump in either photo. And, for all we know, the meeting in those photos could have been held in a Cary Holiday Inn Express.)
Third, if the Hayes-led NCGOP honestly had its act so together, why did it lose the governor's race, the Supreme Court majority, and legislative seats during a Trump romp? 
This is one more example of playing fast and loose with the facts.  Remember the claim of "sweeping" the council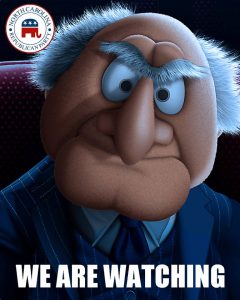 of state races? 
Let's look at the Hayes record.  During his tenure in the NC House, he earned the nickname "the ol' porch dog," because he just sat there and did little.  He ran one of the worst campaigns ever for governor in 1996.  He got elected to Congress and ran as fast as he could over to the liberal Ripon Society.  The only party position he's held, prior to his earlier term as chairman, was as an honorary one as an elected legislator.  (Then, he rarely — if ever — showed up at meetings.)
During his current term as chairman, Hayes used his party position to personally enrich himself at the expense of the state's commercial fishing industry.
Hayes's fundraising skills have been weak — even worse than the supposedly weak performance of the man he helped oust by coup.  He's propped himself up by regularly running to wealthy family members to write big checks at the last minute.  (It also helps that his Jones Street cronies took their caucus money out of state party coffers while his predecessor was in, but returned the money after Hayes was, um, "installed.") 
Hayes has been front and center of very vicious, personal and borderline slanderous attacks against two very promising, up-and-coming black Republican leaders.  
A very personally wealthy man, Hayes has written off personal expenses — like his personal jet's fuel — to the state party.
Robin Hayes is th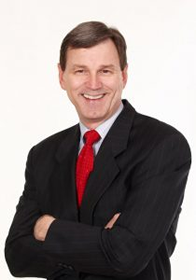 e ideal caricature the Left likes to paint of Republicans — aimless, pampered, privileged white boys propped up by wealthy parents.  To people like him, the GOP is no different than joining the Kiwanis or Rotary.  It's a back-scratching networking club.  His friends in Raleigh and DC want to keep him there because he is quite the useful idiot.  
Jim Womack has been front-and-center in an effort to make the GOP competitive again in a county that should have been in Raleigh's sights long ago.  He's a fighter that has made it cool and honorable to be a Republican in his neck of the woods.   Womack has made it clear he's a threat to the continued success of the smoke-filled backroom crowd.  That ought to be enough to mark him as a champion for all of us who work hard, live right, and play by the rules outside the Raleigh beltline and DC beltway.