Richard Burr ALSO on the solar bandwagon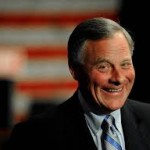 Another politician connected to uber-consultant Paul Shumaker is out beating the bushes in favor of government subsidies of solar energy.  As my friend Gomer says: "Sir-Prahz, Sir-Prahz, Sir-Prahz."
It's amazing to see how many Republican politicos are suddenly in love with solar and wind energy.  Late last month, our senior senator — and some fawning local state legislators — toured a new solar farm in Montgomery County.  Kristen Laster — of all people — was there to capture the glorious event on Instagram: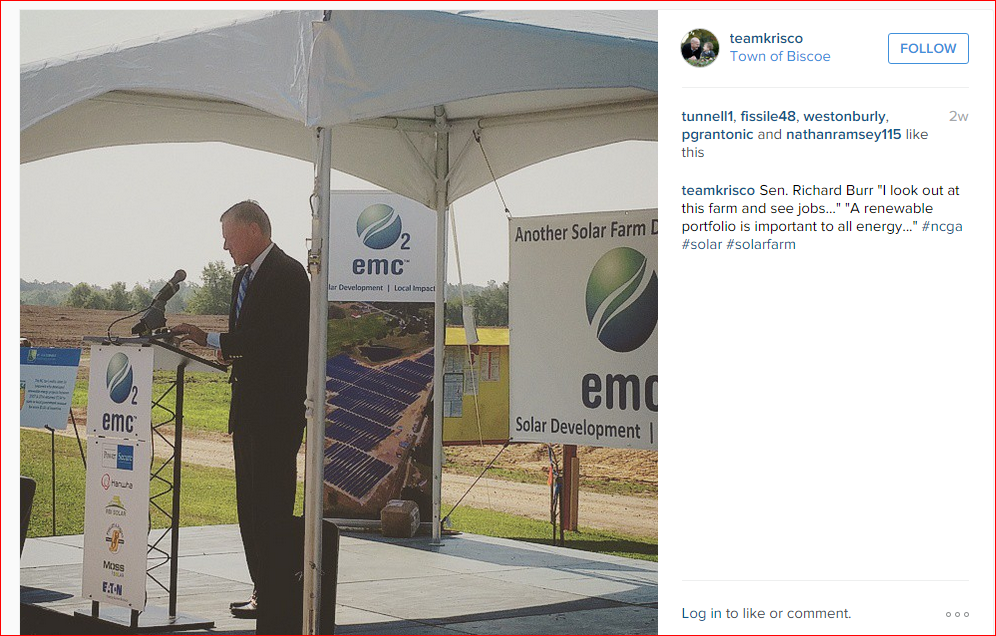 All the politicos were falling all over themselves to tell us HOW GREAT renewable energy is and will be:
[…] U.S. Sen. Richard Burr, R-N.C., said he looks out over the graded fields and sees jobs.

"Before I got here, it was hard for me to visualize anything but a quail farm," Burr said. The solar farm is growing on several acres purchased from the Town of Biscoe and the former Tobacco Stick Hunting Preserve between U.S. 220 Alternate in Biscoe and Interstate 73.

Burr said North Carolina is now fourth in the nation in solar megawatt production and that Duke Progress Power "has been a great partner."

"We thank Montgomery County for embracing solar energy projects to make jobs and create energy," Burr said. "The partnership between O2 emc, the Town of Biscoe and county leaders enabled them to leverage state and federal funds to produce clean energy."

Burr is a member of the Senate finance subcommittee which is debating extending the solar tax credit set to expire in 2016. O2 emc officials urged him to vote to extend the credit.[…] 
*<GASP!>*   (*You DON'T say!*)  Hold the phone, though.  It gets, um, *better*: 
[…] N.C. Sen. Jerry Tillman, R-Moore/Randolph, said O2 emc has taken a property with a $500 tax base and turned it into a $100,000 tax base.

"I am on board with whatever I can do. Our future needs renewable energy because there is no telling what those Arabs will do with oil," Tillman said.

N.C. Sen. Stan Bingham, R-Davidson/Montgomery, said he had never been so impressed with such an innovative project and he, too, would be happy to "kick the Arabs' butts" on energy.

Bingham said he had been interested in alternate energy sources since he lived in Australia and has two daughters who are engineers in that industry.

Also on the early construction tour were N.C. Rep. James Boles, R-Moore, and N.C. Rep. Allen McNeill, R-Moore/Randolph, along with Montgomery County commissioners Jim Matheny and Jackie Morris and Biscoe Mayor Jimmy Blake and town commissioners John Beard and Gene Anderson. [..] 
*SMH*.  Politicians following solar people around begging for campaign contributions like dogs seeking treats from their masters.