RCP says #NCSEN race a "tossup"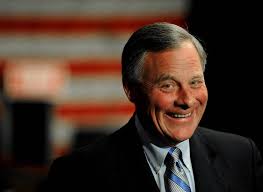 Too close to call.  Could go either way.  That's how Real Clear Politics sees US Senator Richard Burr's reelection fight with former state Rep. Deborah Ross.    North Carolina's Senate race is one of NINE the venerable politics site sees as an absolute toss-up in the fight to control the US Senate.  
According to RCP, the Democrats look solid in 47 races, while Republicans look solid in 44.  The contests in Arizona, Pennsylvania, Florida, Indiana, Missouri, Nevada, New Hampshire and Ohio join North Carolina in that group of nine tossups.  EIGHT of those NINE are currently held by Republicans.  (Nevada's is currently held by Democrat Harry Reid.)
The RCP average has Burr leading Ross 42.3 to 38.7 percent.  Both candidates reached their respective high water marks for the race in an NBC poll — taken July 5 to 11 – showing Burr leading 48-41.