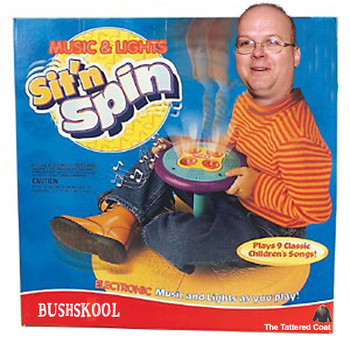 Yes, the horned one from the hot place down below is showing himself within the confines of our pristine state once again. This time Karl Rove  appears to be trying to save THE MOST LIBERAL Republican representing North Carolina in the US House from the grasroots rabble: 
In a race that could land on the front lines of a Republican civil war, GOP Rep. Robert Pittenger applauded President Donald Trump Monday – even as he campaigned with one of Trump's sharpest critics.

Pittenger's appearance with Republican strategist Karl Rove came on the day that new fundraising reports suggested that he could face not only a tough primary challenger but a well-financed Democrat.

"How can you bring in the head cheerleader of the anti-Trump agenda in the Republican Party and still claim to support President Trump," said Andy Yates, consultant for Pittenger's GOP opponent, Mark Harris. "You either stand with Karl Rove and the anti-Trumpsters or you don't."
OOOf.  Andy Yates.  Talk about tying one hand behind your back before a fight. MORE: 
New reports showed that Harris, former pastor of Charlotte's First Baptist Church, raised $251,000 during the third quarter to Pittenger's $242,000. 

Pittenger, who beat Harris by just 134 votes in last year's 9th District primary, has raised a total of $576,000 in his campaign.

Democrat Dan McCready outraised them both with $416,000 in the quarter, bringing his total to $875,000. Last month Roll Call reported that only three Democratic challengers in the country had raised more than the former Marine from Charlotte.

Rove, an adviser to former President George W. Bush, headlined two Pittenger fundraisers Monday. He has been a frequent target of anti-establishment Republicans such as Steve Bannon, a former Trump adviser.

Along with a handful of prominent conservatives, Bannon has vowed to recruit candidates to challenge Republican incumbents. Speaking to a conservative group this weekend, he declared "a season of war against a GOP establishment."

"They want it to be (a war)," Rove told the Observer. "I don't think it needs to be."

"What I admire about Pittenger," Rove continued, "is he has been a strong, consistent conservative in Congress. And what that means these days is he's been a defender of the president's policies."
Um, "strong, consistent conservative"?  Conservative Review says he's the most liberal House Republican from the Tar Heel State.  Only Tillis and Burr are to his left (but not by much).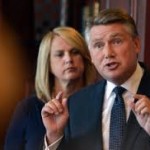 Pittenger made national news a few years back by ridiculing the idea of repealing ObamaCare.    One of his aides took to Twitter to mock Ted Cruz during the Texas senator's early valiant efforts to kill ObamaCare.  He's also been bad on amnesty. (And let's not forget the FBI and IRS inquiries into Pittenger's private business that just went away. )
For what its' worth, Mark Harris has joined Steve Bannon's war party aimed at evicting RINOs from Capitol Hill.
Also, the NRCC — the House campaign wing of the RNC — is openly siding with Pittenger by helping him fundraise during the primary battle.