Pinehurst: A shakedown of builders by village staff?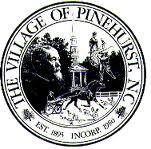 A long-time village government policy has some area developers — along with at least two members of The Village Council — crying foul:
The Pinehurst Village Council approved preliminary plans for a 70-unit townhome development on Midland Road near the entrance of Mid South Club.

The council unanimously approved the preliminary plat for Walker Station — formerly called Midland Cottage — during its work session last Tuesday. The discussion included a debate over a village requirement that developers either dedicate a certain amount of land for a park or pay a fee that goes to the Parks and Recreation Department for future parks and greenways.

Senior Planner Bruce Gould said the village also requires that 25 percent of the property be set aside as open space, which cannot account for the land dedicated for a public park. The amount of land that must be dedicated for a park is based on the number of residents.

In the case of Walker Station, that would be 1.8 acres, based on 70 units with an estimated 180 residents, Gould said. The fee in lieu of dedicated park space would be $35,000, or $54 per resident, he said.
I contacted Village Hall to see if they could supply me with ANY documentation supporting this requirement and THAT fee rate.  Here is what I got, from the Pinehurst Development Ordinance: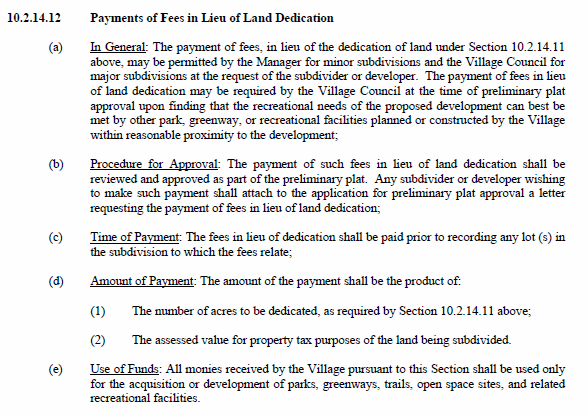 I talked with a village government source — who is a friend of this site — who tossed in their two cents:
"My reading of that says the council has the final word on all of this.  It appears that we've had unelected staff members making the call on a lot of this.  if you need someone's signature in order to get your stuff built, are you really going to argue with a demand from that same person for money?"
The village council had a pretty healthy debate about the policy at a recent meeting:
Mayor Nancy Fiorillo said that is what state law allows municipalities to do.

"Sounds like a typical bureaucracy," council member John Cashion said. "The whole process needs revisiting."

Gould said it could be changed, but the amount of the fee must be based on the value of the property dedicated for park space. The park space would be only for residents of the development, not the public, while the fee goes to a fund for public parks — the premise being that residents would use it instead of another village park.

Brandon Goodman, a representative of property owner Pat Molamphy, said that during the conceptual phase, they determined that the closest park to the property was Cannon Park, which is three miles away and there are no walking trails connecting them.

"We elected to have a park," Goodman said. "It (park fee) is tantamount to an impact fee."

Goodman questioned why the village would not allow the developer to include a park within the 25 percent open space requirement, which would meet the intent of the ordinance.

Gould said the rezoning on the property was conditional on the proposed plans for the property, which included a park.

Councilman Mark Parson said that was like "a carrot" for the village to approve the rezoning.

"This is a substantial park," Goodman said of the 1.8 acres. "It is bigger than Village Green. It was not as much of a carrot as it was to show what we would provide to our residents."

Fiorillo said the council was not in a position to make "sweeping changes" at this point as far the as the park space/requirement.

Parson said the fee in lieu of park space "seems like a shakedown" to him.

Fiorillo replied that any new developments would "impact our recreation department" by potential increasing the usage of existing parks.
It's my understanding that there will be further, serious discussion of this "fee in lieu of" at a Tuesday evening meeting at Pinehurst Village Hall.  My source tells me that one proposal — likely to come up — involves a possible refund to any developer who paid this "fee in lieu of" AND set aside land for a common area / park.