Paul Tine: The new Arthur Williams?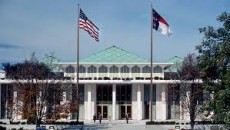 A Democrat named Arthur Williams represented the Outer Banks-centered Sixth District in the North Carolina House from 2003-2011.  During that time, he was a good Democrat — a good soldier for then Senate boss Marc Basnight and then-House speaker Jim Black. In  the 2010 GOP wave, Williams was defeated by Republican Bill Cook.  In 2012, Cook was encouraged to jump from the House to the Senate — opening up the District 6 seat,
In 2012, the Tea Party was in full-swing in the district.  Tea Party leader Mattie Lawson was making a serious run at the District Six seat.  Establishment Republicans in Raleigh — led by then-House speaker Thom Tillis — encouraged Williams, who the party had JUST spent tons of money to defeat, to change parties and run for the seat he just lost as a Republican.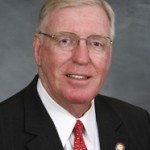 Lawson escaped the primary and runoff fight against Williams.  Sources on the ground in the Sixth District tell me that establishment GOP types flocked to the campaign of Democrat Paul Tine in November, helping him eke out a win over Lawson the Tea Partier.
Tine spent two years as a freshman member of the Democrat minority on Jones Street.  That gave him plenty of time to shake down some decent campaign cash from lobbyists and enter the 2014 election cycle rematch with Lawson with a substantial cash advantage.  Again, the NCGOP sat on its hands

in this very winnable district and Tine escaped with a victory in a GOP wave year.
Now that the 2014 races are sufficiently behind us, we are getting word that Tine is leaving the Democrat caucus and registering as Unaffiliated.    Drive-bys and establishment types are cheering this news — labeling Tine with terms like "moderate" and "conservative."  But how accurate are those descriptions?  Let's look back to his campaign web site from this time last year: 
[…] Education, job creation, and infrastructure will be the focus of Tine's campaign, but campaign spokesperson Keith Mason, Jr. emphasized that the race would also be about protecting rural areas. "As Co-Chair and a founding member of the Democratic Rural Caucus, Representative Tine has been a leader in the fight on rural issues. From fighting vouchers and education cuts, to denouncing Medicaid cuts for rural healthcare centers, to promoting infrastructure projects, Eastern North Carolina has a strong advocate in Representative Tine." Mason said.[…]
"Fighting vouchers"' — aka school choice — and "education cuts"?   "Denouncing Medicaid cuts"?  He sounds like Kay Hagan.  And this was JUST a year ago. 
Tine may be acting out of concern over the district's demographics.  It's only 45 percent Democrat and 82 percent white. Republicans Burr, Romney and McCrory all won the district handily in their most recent races.
This has happened before. Bert Jones won a seat in Rockingham County in 2010 as a conservative unaffiliated candidate.  He caucused with the GOP — but had the conservative beliefs to justify it. He later switched his registration to Republican,and won reelection.
Has Tine had an ideological epiphany / conversion or awakening? Doesn't sound like it:
[…] Tine's defection will effectively give the GOP a 75-45 advantage, although Tine stresses he has not changed all his viewpoints just because he is changing parties.

"I've told them watch what they wish for in terms of working with me, because I'm still going to believe we need Medicaid expansion to help our rural hospitals. I still believe we need funding for transportation in eastern North Carolina. I still believe in public education very strongly," Tine said. […]
Some may argue — justifiably — that Tine misled his voters by running as a Democrat in the election and then switching shortly afterward.  It could be argued that he should take the Strom Thurmond route — resign your seat and then run for it in the special election with your new party registration.  Let the voters ratify your decision.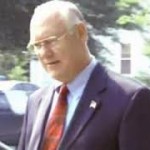 It will be interesting to see if this guy gets any rewards — like a committee chairmanship —  for making this move.  That could evoke memories of Richard Morgan and Michael Decker from the 2002-2006 era.  The Republicans don't NEED Tine to switch.  They've already got a comfortable margin.  He's not a dependable conservative — like Bert Jones.  So, it's hard to see what benefit the Republican caucus gets from this move.  
If there eventually is a switch to the GOP that will tell us all we need to know.  The establishment has installed a legislator they can control and has effectively shut grassroots conservatives out of this seat.