One more reason to feel good about Neil Gorsuch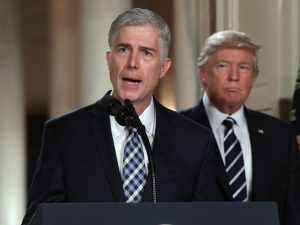 Believe it or not, from the Charlotte Observer: 
When Neil Gorsuch accepted his nomination to the U.S. Supreme Court Tuesday night, he tipped his hat to three former mentors, including a one-time Charlotte attorney and judge.

"If you've ever met Judge David Sentelle, you'll know just how lucky I was to land a clerkship with him right out of school," Gorsuch said, nodding in Sentelle's direction.
For those of you who don't know, it is very apt to describe Judge Sentelle as The South's Own Scalia.  His rulings pretty much mirrored Scalia's take on things.  Throughout his career, Sentelle has been very close — personally and philosophically — to leaders such as senators Jesse Helms and Lauch Faircloth.   It is a real good thing that Gorsuch views Judge Sentelle as a respected mentor.   But then you get to THIS part of the article:
[Sentelle] was one of three mentors Gorsuch recognized in accepting Trump's nomination. The others were former Supreme Court Justice Byron White and current Justice Anthony Kennedy.
I am good with Justice White, but KENNEDY?  A guy who seems to produce his rulings via a flip of a coin or a shift in the wind?  Not so much there.