'Occupy Raleigh' running up the bill for local taxpayers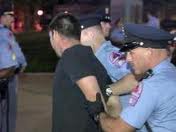 The hippies camping out in our fair capital city, as part of the global nonsensical leftist temper tantrum known as the 'occupy' movement, may be starting to wear out their welcome with locals.  The N&O newsroom — perhaps realizing the cost for this nonsense will be hitting THEM in the wallet  — has this story in today's edition:
Demonstrators from Occupy Raleigh came to City Hall on Tuesday hoping for a more hospitable reception than they're getting from the state.

But granting the protesters' request for a permanent site that will allow them to encamp and demonstrate without fear of arrest could increase the city's financial burden for the protest that began Oct. 15. It could also complicate future requests from other groups.

The Occupy Raleigh group wants a base camp at the Avery Upchurch Park at Dawson and East Morgan streets, beside a city parking deck. Demonstrations would continue at the state Capitol where police have arrested protesters on charges of trespassing and resisting arrests.

So far the city has spent more than $51,000 paying police to monitor the protest around-the-clock.

The Upchurch Park site would be a place to eat, sleep and use a portable toilet, Joseph Huberman, a spokesman for Occupy Raleigh, told City Council members. Demonstrators also would like permission to use an outdoor electrical outlet to charge their laptops and cellphones, he said.

The council referred the request to its law and public safety committee which meets Tuesday.

Huberman, who was accompanied by about 80 Occupy Raleigh members, said a base camp is essential for the protest to continue. "We allow restaurants to set up tables on the sidewalk," he said. "We block streets for First Friday. Certainly this causes an inconvenience for some people. That is simply the cost of having a vibrant city … where people are actually doing things."

An around-the-clock encampment would add to police costs, City Manager Russell Allen said. But he did not have an estimate Tuesday.

Another issue: If the city grants permission for an encampment, the same access would have to be extended to any other group in the future, City Attorney Tom McCormick said. .

That's a source of worry for Councilwoman Nancy McFarlane, who will be sworn in as mayor next month.

"I do have some concerns that the attorney addressed about equity with every other group that may not be as pleasant," McFarlane said Tuesday night.
Yeah. This is *sarcasm* JUST *sarcasm*  like those tea party rallies.   Remember all of those rowdy tea party people camping out all night trashing public property, fighting with the police, smoking weed and urinating in public?
(Me neither.)