North Carolina, The Tenth Amendment, and ObamaCare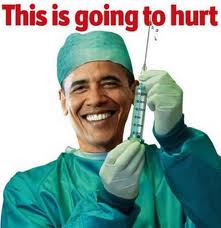 The start of the new calendar year started the clock ticking on the implementation of that economic nightmare known as ObamaCare.  Where we are NOW — the states are required to set up health care exchanges.  (Lame Duck Bev wrote President Barry, before leaving office, seeking federal money to aid the establishment of a state health care exchange in North Carolina.)  Half of these United States are fighting the implementation of ObamaCare on the grounds that it violates the Tenth Amendment to The United States Constitution. 
Our neighbors in South Carolina and Virginia are both part of that anti-ObamaCare effort.  We've been told by the mainstream media that a "conservative revolution" has swept into Raleigh.  But we're getting deathly silence from GOP leaders in the legislature and some less-than-aggressive rhetoric from newly sworn-in Republican governor Pat McCrory.   Our state is already wracked by record economic problems, and our leaders appear ready to surrender to some beastly legislation from DC that could prove to be the coup de grâce.
What is the problem?  Do the NCGOP leaders think they will be thrown out of office for fighting ObamaCare?  Is that what they got from Barack Hussein Obama's defeat in the state in November?
On Wednesday, grassroots activists will be gathering in Raleigh to rally against the implementation of ObamaCare and put pressure on the new GOP regime.   Of course, the event occurs during the workday — preventing a lot of us from attending.  Another effective method for making your voice heard on this matter is contacting McCrory, Lt. Gov. Dan Forest, the legislative leaders, and your individual legislators.  (In Moore County, our legislators are Senator Jerry Tillman, and Reps. Jamie Boles and Allen McNeill. )  Call them.  Email them.  Buttonhole them in-person.  ALWAYS BE POLITE AND RESPECTFUL. But do let them know that their 2014 reelections hinge on this issue.