NO privacy for YOU! (No fed $$$$ either)
Cats and dogs living together.  Boys and girls going potty together.  It's finally HERE!  (*Not the hope and change you voted for? Um, sorry.*)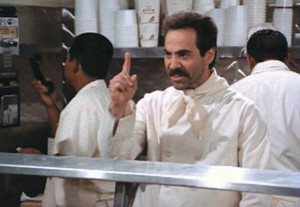 Lincoln reunified the country.  Kennedy took us to the moon.  LBJ got us the Civil Rights Act. Nixon went to China.  Reagan ended the Cold War.  And Barry Obama?  In addition to wrecking the economy, he's banishing the concepts of "ladies room" and "men's room" to the ash bin of history.  
President Barack Obama will decree Friday that schools must welcome a tiny number of apparently transgender children by taking single-sex bathrooms, single-sex locker rooms and sexual privacy away from almost 55 million American kids in 100,000 K-12 public schools.

Obama will use the administration's power over funding and advocacy lawsuits to enforce his demand, which will establish the far-left theory of "gender identity" as government orthodoxy in the nation's school system.

There's little that House Speaker Paul Ryan's GOP caucus in Congress can do to stop this power-grab, because they've already approved federal funding until October.
Okay.  So, withholding funding for ObamaCare is BAD. Refusing to fund the government unless it lives within its means is BAD.  But denying money for schools to throw a bone to the pink triangle crowd is OKEY-DOKEY? MORE: 
The denial of sexual privacy to almost 55 million kids is being justified as a way to prevent "discrimination" against a tiny number of children who say they feel they are members of the opposite sex. Among actual adults, various estimates say that only 1 in 330 or as few as 1 in 2,400 adults are transgender are transgender.

"There is no room in our schools for discrimination of any kind, including discrimination against transgender students on the basis of their sex," activist U.S. Attorney General Loretta Lynch said in a statement released Thursday.
Remember, this dingbat got APPROVED by a REPUBLICAN Senate. MORE: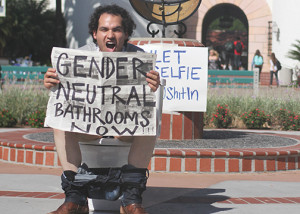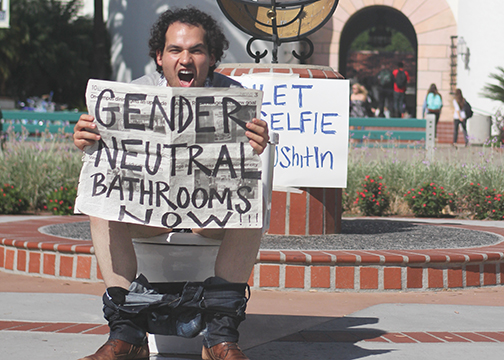 Lynch's letter echoes the administration's 2014 claim that decades-old law barring sexual discrimination against men or women also bars discrimination against people who claim their "gender identity" is different from their male or female genetics and genitalia.

In carefully scripted language that portrays the administration as wise and kind, Lynch claimed the new federal decree "gives administrators, teachers, and parents the tools they need to protect transgender students from peer harassment and to identify and address unjust school policies."

The letter will also inform school districts they won't even be allowed to require some evidence that the child is "transgender" or is undergoing treatment or a sex-change procedures. That "no-test" rule reflects progressives' hostility to any tests or rules that limit people's choice of fluid "gender identity."

If confirmed, the no-test rule also will make it difficult for communities to protect the sexual privacy of children against people who falsely claim to have an opposite-sex "gender identity." Already, the federal government is suing the North Carolina government to strike down a new compromise law, dubbed HB2, that protects sexual privacy and also allows transgenders to change their sex once they undergo medical procedures.

Obama's letter will also inform district administrators that as soon as a student and his parent or legal guardian asserts a "chosen" gender that "differs from previous representations or records," the school must act in accordance with the claim.

According to The New York Times, the letter will be accompanied by a 25-page document describing "emerging practices" laying out how schools have already addressed the issue.

Those practice likely will force schools and parents to accept "gender identity" classes for the kids. The classes inform children that typical male and female behaviors and preferences are shaped by culture and experiments, not by biology. The "gender identity" theory argues that children may be happier if they pick male or female or mixed "gender expressions" that differ from typical behaviors or from parents' preferences. In essence, the "gender identity" claim wants to replace the traditional, time-tested idea that kids naturally belong to either of the two different, equal and complementary sexes.

In Oregon, education officials have recently released instructions to schools to implement much of this new "gender identity" ideology. According to the new Oregon rules,

Based on this guidance transgender students should be treated consistent with their gender identity and should not be excluded from participation in, be denied the benefits of, or be subjected to harassment or other forms of discrimination on the basis of gender identity in any program or activity. These activities and programs may include but are not limited to cheer class, homecoming, prom, spirit day, celebrations, assemblies, acknowledgments, after school activities/ programs and all extra-curricular activities.

Also, the Oregon rules say that the student – child or teenager – decides his or her gender identity.

The person best situated to determine a student's gender identity is the individual student.
What?  An 8 year old decides if they are a BOY or a GIRL?  The same kids who are too young to vote, buy cigarettes, or drink beer?  MORE: 
Transgender students may not want their parents to know about their experiments in transgender identity, so officials,

should balance the goal of supporting the student with the requirement that parents be kept informed about their children.

The matter of Obama's power to end sexual-privacy for the nation's children, however, is not at all settled.

Congress has not acted, and the courts have yet to make final rulings on these matters, meaning Obama's power to force local schools to obey these demands is not set in stone..[…]
Depend on Congress to act?  Like with ObamaCare?  And amnesty?  BOY, ARE WE SCREWED.