#ncsen: USA Today says Hagan 47, Tillis 45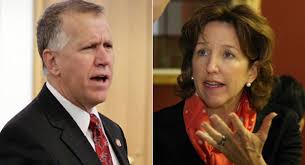 This poll of 500 likely voters was taken between Saturday and LAST night.  Here's some more insight: 
[…] Over the past two months, some things have changed in the Tar Heel State. Terrorism is a rising concern amid a growing threat from the extremist group Islamic State in Syria and Iraq. The percentage of voters who call foreign policy/terrorism the most important issue has doubled to 18%, now second only to health care as a concern.[…]

Margaret Ellington, 42, of Raleigh, who was among those polled, said in a follow-up interview that Republicans are the ones mentioning Obama's name. "They link the Democrats more with Obama than the Democrats actually link themselves," she says. "They want to say Obama has caused all these problems," especially in health care.

By 49%-42%, those surveyed say the Affordable Care Act has been generally bad for North Carolina.

Ellington supports Hagan, saying Tillis and other Republicans "are pushing this uber-conservative agenda," including on issues such as education spending and abortion rights. "It's like they're on this warpath of conservatism."

In Fayetteville, Michael Koba, 52, who is most concerned about the federal budget deficit and the economy, is "95%" settled on voting for Tillis. "Quite honestly, I haven't really been impressed with Kay Hagan's performance over the past six years," he said in a follow-up interview.

He adds that he's dismayed by the avalanche of negative TV ads being aired by behalf of both candidates. "Most of them are what the other person is doing wrong," he says. "I'd much rather see advertisements that say, 'I'm Thom Tillis; these are the positions I'm advocating.' "

The ads seem to be having an impact, although each side may be offsetting the other.

In the poll, 35% say they are less likely to support Hagan because of an ad that accuses her of missing Senate Armed Service Committee hearings as the threat of ISIL rose. And 39% say they are less likely to support Tillis because of an ad that says as speaker of the North Carolina House he cut education spending and opposed a bill to make college loans more affordable.

The unfavorable ratings for both candidates have risen a bit since August, to 47% for Hagan and 44% for Tillis. The Republican's favorable ratings also have risen significantly, to 38% from 24%, as he has become better known, especially in the western mountain region of the state.

"It is an area where Mitt Romney romped in 2012 and has been a staple for Republican candidates," says David Paleologos, director of the Political Research Center at Suffolk University in Boston. "It appears this region is now coalescing around Tillis, whom voters have gotten to know since August." […]

Seven of 10 voters say the issue of which party controls Congress will be a factor in their vote, a double-digit increase from the 58% who felt that way in August.