#ncsen: Tillis son jumps into political consulting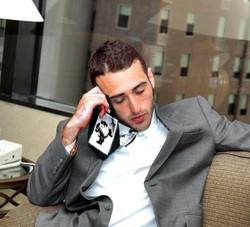 Is there room for TWO members of the Tillis family in North Carolina politics?  I guess we'll soon find out. Ryan Tillis, the son of US Senate candidate Thom and his wife Susan, has apparently hung out his shingle as a political campaign consultant. 
According to the web site for Tillis Consulting, LLC, the firm specializes in: social media organization and reporting, VOIP monitoring, mobile programs, mailer tracking, early voting drives, volunteer IDs, and absentee targeting and sifting. 
One problem with the site we spotted right away: The bio page includes a photo of the younger Tillis sleeping.  That image surely won't build confidence in the minds of prospective clients. 
The bio page features a long narrative from young Tillis about his experiences in college in DC, as well as those while working at the US Patent  Office:
[…] During my experience there I developed a tracking method to effectively reverse engineer the productivity metrics to tell me exactly how much work I had to do, updated by the minute, in order to get them the numbers they wanted. The first day there I was turning out maybe 5 patents a day, by the time I left I was averaging 40-45 patents a day with no sign of them slowing down their demands. After keeping a letter of resignation in my desk drawer for a few months, trying to quit once and being convinced by the team manager to stay on board I finally went through with it at the end of November 2013.

I had since been blissfully and willfully removed from my Father's Senate campaign. After some careful thought on my part, discussions with my family, and a meeting with the campaign manager I decided that it would be a great opportunity for me develop as a professional and get an interesting and unique experience on statewide campaign.

The real fun was in what I got to do outside of what I would consider the chore of check caging/reporting. My father told me going into the job that I should try to fill the gaps and find the places where processes could be improved. I took this to heart from the beginning and tried my best to master the campaign's softwares, establish relationships with the volunteer-base, and understand the methodologies that make a campaign flow.

When I first came on board I gave a presentation about the elements that I wanted to bring to the table for the Primary campaign from a young person's perspective. These aims included social media optimization, increasing candidate accessibility through low cost mediums like youtube, twitter engagement, taking advantage of cloud platforms, mobile devices, ease-of-access card swiping technologies, and a variety of other considerations. Some of these came to fruition, some were overly ambitious given the timeframe and allotted budget. I did manage to get the campaign over 16k twitter followers over the course of 3 months without spending a dime. Given the freedom to, I came up with the title "Digital Media/IT Specialist". 

During the campaign I became proficient with Crimson, Rocketbase, Votermapping, Google Fusion Tables, Nationbuilder, Microsoft Mappoint, and other useful campaign technologies. During my time at American University I used a variety of data visualization and manipulation tools. I don't claim to be an expert by any means, but I am a quick learner and I love working with diverse softwares to come up with creative solutions.

I established professional relationships with top-level consultants, media professionals, software CEOs, not to mention the great team of people working on my father's senate campaign (and the incredibly dedicated and continuously humbling volunteers). At a certain point I felt that my operational framework as a Digital Media/IT consultant was too limited to accomplish the goals I set out to achieve. So I decided to pursue my own consulting practice. […]