#NCSEN: The Thom Tillis Show, force-fed to you by the NCGOP establishment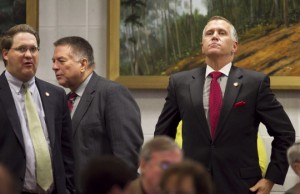 The Lincoln County GOP is holding their annual Lincoln / Reagan dinner this weekend.  Whatpiques my interest about the event is the web page promoting it.  The page features a big ol' picture of smilin' Thom Tillis and notes that he will be keynote speaker for the dinner.  It mentions that he is the speaker of the House and is a US Senate candidate.  But, by reading the linked page, you'd never know that he is locked in a tight primary with seven other candidates.  You might get the impression that Tillis is already the GOP nominee.  
It sounds like something similar will be happening at the Mecklenburg GOP's Lincoln / Reagan dinner at Carmel Country Club on March 15.  A source with the Mecklenburg Young Republicans tells us that Tillis has been invited to speak to dinner attendees and offer a "legislative update."  Never mind that the legislature has been out of session for months and will not come back into session until after the May primaries.  Again, there are EIGHT GOP candidates for US Senate.  Two of the eight (Tillis and Mark Harris) are from Mecklenburg County.  But, according to my sources, Tillis is the only candidate being allowed to speak to the attendees from the podium.  
Silly me.  I thought primaries were all about evaluating candidates and making decisions as a group.  Party leaders picking someone and shoving him down the throats of the people sounds like something that would make Vladimir Putin all warm and fuzzy inside.