#NCSEN: Susie, we're not in Kan — er, Raleigh anymore.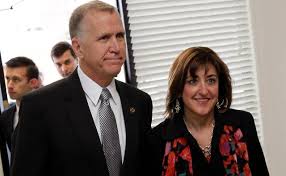 Susan Tillis – Whife of Thom — got a little publicity a few days back for criticizing (via Facebook) North Carolina House leaders' strategy in the budget reconciliation process.  Her man Thom did it soooooo much better than this current bunch of guys.  (Not surprisingly, the Facebook post in question got deep-sixed really quick.) 
Now, it appears Mr. Susan Tillis can't keep his mind off of the happenings in Raleigh.  Even though there is some pretty hellacious stuff going down inside The Beltway.  An interview yesterday with Charlotte Business Journal seemed to focus an awful lot on Jones Street and a lot less on Capitol Hill's lack of action on ObamaCare, amnesty, spending control, BarryO's wit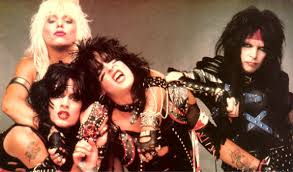 hering abuses of The Constitution, and regulatory creep, among other things. 
Here are some of the things we learned from our junior senator:
Beyond politics, Tillis shared a few tidbits. To start, he professed more than a passing knowledge of hair-metal rockers Motley Crue after Charlotte visitors authority CEO Tom Murray mentioned the band's farewell tour concert at Time Warner Cable Arena over the weekend as an example of the tours and events that regularly come through town as a result of hotel and restaurant taxes paying for sports, entertainment and arts venues. Murray wondered aloud whether Tillis knew who Motley Crue was, prom[p]ting the senator to blurt, "Oh, yeah, I've actually got a Motley Crue channel on Pandora." […] 
I wonder if he acquired a taste for Vince Neil and THAT OTHER THOMMY while visiting with his "family" in The Old Country or while matriculating at The University of Maryland? 
The senator also opined on some other local events: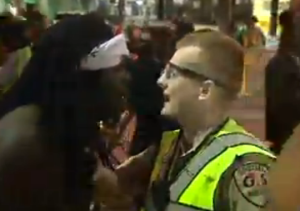 […] Asked about the decision by the state not to re-try Randall Kerrick, the policeman charged with excessive force in the shooting death of Jonathan Ferrell, an unarmed black man, Tillis told me the legal process has been allowed to play out. In addition, Charlotte residents responded with appropriate, peaceful protests, avoiding the violent reactions in Baltimore and Ferguson, Mo., the senator noted. […]

Appropriate?  Peaceful?  WCNC in Charlotte begs to differ: 
[…] Police say they observed the crowd transition from peaceful protesters to a younger, more aggressive group of demonstrators as the events of the night developed.

Around 9 p.m. some demonstrators threw rocks at police officers. The CMPD Civil Emergency Unit was deployed and restored order.

As seen on the live stream on WCNC.com, a protester struck a transit officer at the Transit Center uptown, a scuffle ensued, and the man was arrested.   A second person was also arrested for assault on an officer.  Neither officer was seriously injured. […]
(So throwing rocks at cops is appropriate ????)  And then there was this Air Force mechanic, coming out of the Panthers game, who got sucker-punched by the Black-Lives-Matter crowd doing some "appropriate" protesting of the verdict.
Five and a half more years, folks.