#NCSEN: Only 45% of the white vote FOR Tillis?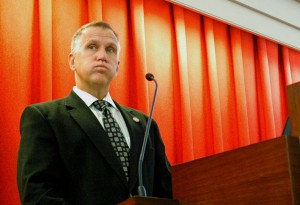 We posted earlier about the Fox News poll of this race.  Digging into the cross-tabs led us to discover a really interesting stat.  Hagan, the Democrat, is drawing 33 percent of the white vote — which can be expected for a Democrat candidate in this state and this day and age.  Democrats tend to make up for that deficit with a huge turnout by blacks and other minorities. The astonishing thing is that Tillis, the Republican, is only drawing 45 percent of the white vote.  As a Republican, it's TOUGH to survive politically with that kind of percentage in that demographic. 
Six percent of the white vote goes to Libertarian Sean Haugh, while 16 percent of white voters said they either (1) would not vote for Senate, or (2) refused to say / or didn't know who they would vote for. 
The Fox poll was conducted September 14-16 and involved quizzing 605 likely voters in North Carolina.