#NCSEN: Elon & PPP both say Hagan 44, Tillis 40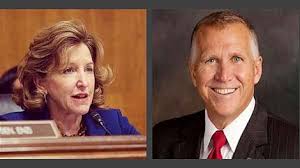 Oh, the *good news* just keeps rolling in for the GOP campaign for North Carolina's US Senate seat.  Left-leaning Public Policy Polling surveyed 1,266 likely voters from September 11 -14.The margin of error was +-2.8 percent.  The Elon Poll surveyed 1,078 registered voters (629 of whom were determined to be "likely voters") from September 5-9. The margin of error was +-3.91 percent.
There have been 18 publicly-revealed polls taken since the May primaries concluded.  Tillis has had a lead in six of those eighteen.  (That total group includes ONE tie.)   The Republican's last lead (43-42) came in the CBS/ New York Times / YouGov poll taken from 8/18 to 9/2.   Three polls have shown a one-point lead for Tillis, two have shown two point leads, and one has shown a five-point lead.   Hagan's leads have ranged from ONE to TEN points. 
PPP shows Hagan's favorable / unfavorable rating at 43/48 while Tillis is at 34/48.  The Elon poll shows a 51 percent disapproval for Hagan, and a 54 percent disapproval of Tillis and the legislature. PPP shows Tillis getting 13 percent of the Democrat vote while Hagan gets 7 percent of the Republican vote.