NC's MSM: Two screaming lefties = BIG NEWS. 'Honor Your Oath' rally = (YAWN)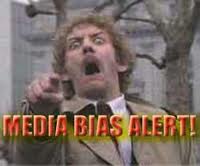 Here's a shocker:  The mainstream media is biased.   The mainstream media here in North Carolina has taken a hit in recent years.  Dwindling readers / viewers coupled with smaller ad revenues has led to layoffs and scaled back original productions.  Milk that house fire video shot with a witness's iPhone all you can. 
The real problem we face here in The Old North State is akin to what people faced in Europe's old Communist bloc, and what they currently deal with in Red China.  You see what the powers-that-be want you to see.   The McClatchy gang in Raleigh and Charlotte, and the Goodmon clan at WRAL in Raleigh are renowned for their financial and propaganda contributions to the Democrat Party.  We here in yellow-dog GOP Moore County are treated, at our local paper,  to the leftist propaganda talents of the Daniels clan — who perfected their craft while owning The N&O.   These three entities have an amazing amount of influence over what Rush calls "low-information voters."  These leftist activists and their media properties can control what average citizens — who are too busy to pay close attention to politics and the issues — see.   They can make five lefties screaming about an issue seem like the most important thing on the planet.  They can also ignore hundreds or thousands of Tea Party / grassroots activists.  With the low information crowd, if it doesn't make newsprint or the evening broadcast, it might as well have not even happened. 
On January 9,  some grassroots activists organized an 'Honor Your Oath'  rally on the Halifax Mall in Raleigh to pressure Gov. Pat and the legislature to take an aggressive stance in fighting implementation of ObamaCare in North Carolina.  The promotional flier listed more than a dozen speakers, which included a former legislator, two current legislators, the current chairman of the NCGOP, and one of North Carolina's current Members of Congress.  Hundreds of people were in attendance.  Sound pretty newsworthy?  Not to the MSM.  If you don 't have the right Facebook friends, you likely didn't hear a word about it.  Here is some video of the event.  You can find more video and more coverage on THIS SITE.
Let's take a look at what North Carolina's mainstream media thinks IS newsworthy.    Here, ONE union protester going after IBM got an article and photo on WRAL's web site.   "About two dozen" lefty protesters got a photo and a mention in a Triangle Business Journal article HERE.    In THIS ARTICLE, WRAL gave a photo and story to SIX lefties who chained themselves to the front door of DENR's offices in Raleigh.   HERE, WRAL provides a story, photo AND video for "DOZENS" of Occupy nut-cases.   In this story, WRAL published a story about FOUR lefty protesters.
Our local thrice-weekly journalistic magnum opus — owned by the N&O's founding family — which, by the way, was initially brought down from the mountain on stone tablets by Moses, has taken the cake itself.    It ignored at least SEVEN busloads of local residents who traveled to DC in 2009 for the big 9/12 Tea Party March on Washington.  BUT it ran a front page photo and story on TWO local Democrats who participated in a pro-ObamaCare photo op at The White House.
It's no secret that the alleged mainstream media is biased.  There are a lot of former MSMers who are now press secretaries for Democrat pols.  Former WTVD reporter Gerrick Brenner, who heads the lefty group ProgressNC, gets prime coverage from his former MSM colleagues every time he flatulates.
Will Tar Heel State Republicans, conservatives, libertarians, and other grassroots activists continue to sit around and gripe about this?  Or will they learn to work around this lefty "Big Lie" consortium that has a stranglehold on information dissemination in our state?