#ncpol: Thilli$$$, Burr support EPA attack on trucking industry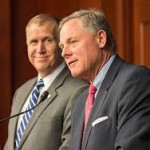 And you thought the Democrats had cornered the market on jackasses:
Four GOP establishment senators and ten House Republicans signed a letter to Environmental Protection Agency (EPA) Administrator Scott Pruitt, asking him to save an Obama-era trucking rule.

The New York Times reported on Thursday that Sens. Todd Young (R-IN), Shelley Moore Capito (R-WV), Thom Tillis (R-NC), and Richard Burr (R-NC) all signed onto a letter urging Pruitt to save an Obama-era glider truck emissions regulation.

 […]During the Obama administration, the EPA created a new rule to regulate glider trucks the same way as new trucks. Glider trucks are built by pairing a new chassis with an older diesel engine and powertrain. Glider trucks cost roughly 25 percent less compared to new trucks, making them more affordable for America's trucking industry. 

Steve Milloy, a Trump EPA transition team member, contends that the Obama-era regulation "would have essentially shuttered the glider industry."[…]
What do you want to bet that there are campaign contributions at the heart of all this?
MORE:
Carl Howard, the vice president and general manager of H&H Freightliner, a North Carolina trucking company, reacted to the news that Sen. Burr supports the Obama-era trucking rule in an exclusive statement to Breitbart News.

Howard told Breitbart News:

The EPA rule eliminates our glider business in 2020. Without a new means to replace these sales we will see about a 40 percent decrease in vehicle sales. The term "decades of consistent regulation" regarding this is a joke. The only thing consistent with the regulation is that it changes. I think someone has pulled the wool over Burr's eyes regarding this, and pretty disappointed he did not look at his constituents, or manufacturers in his state.  The largest manufacturer of the unassembled kits and new trucks has 2 plants in North Carolina. The manufacturers against it are not doing it for environmental concerns, they are doing it because they do not produce glider kits.  Who wouldn't support a possible reduction in competition? Further, the perception is false that gliders put dirty trucks on the road, old worn out dirty trucks are pulled off and replaced with gliders. They replace dirty trucks, not create them.[…]