#ncpol: Just gonna leave this RIGHT HERE …
It's been interesting to see and hear all of the North Carolina Republican big-wigs tearing Judge James Wynn a new one for his ruling against North Carolina's congressional districts.  (Case in point, see below.)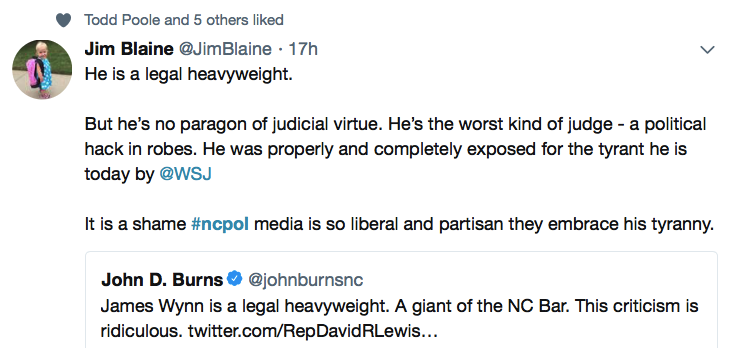 Of course, we agree with Mr. Blaine on his assessment.  We always have. But not all NCGOP bigwigs have been down on Wynn.   We thought this was a great opportunity to step into the political way-back machine and revisit the year 2010:
Senator Burr Congratulates Judge James Wynn on Fourth Circuit Court Confirmation

Washington, D.C. – U.S. Senator Richard Burr (R-NC) last night congratulated Judge James A. Wynn of Raleigh, NC after the Senate confirmed him to the United States Court of Appeals for the Fourth Circuit late Thursday evening. Senator Burr introduced Judge Wynn at his confirmation hearing, and has advocated both publically and privately for his confirmation since he was first nominated by the President.

"I am extremely pleased that the Senate has confirmed Judge James Wynn to the Fourth Circuit Court of Appeals," said Senator Burr. "I was happy to support this highly qualified nominee, and to work to finally fill this seat. I was disappointed that when President Bush left office, the Fourth Circuit was one-third vacant, due to the refusal of Senate Democrats to confirm qualified nominees from across the Fourth Circuit. It has been disheartening in my time in the Senate to watch incredibly qualified nominees, with home-state support, languish in the Senate: Judge Terry Boyle and Judge Bob Conrad, of North Carolina, Rod Rosenstein, of Maryland, and Judge Glen Conrad, of Virginia. […]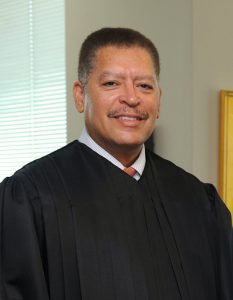 Hmm.  "Extremely pleased" with Wynn.
Judge Boyle is interminably trapped in confirmation purgatory.  You may know the name Rod Rosenstein — from the on-going Russia collusion debacle.  Current judicial nominee Tom Farr of Raleigh can't get a floor vote on his nomination.
Did you know the Senate has a rule that, if one senator from a state where a nominee will represent or preside over has a problem with said nominee, there will be no floor vote.  If both agree, then there will be a floor vote. Burr had an excuse when he was with Kay Hagan.  Thilli$$$ has been with him for FOUR YEARS now.
I wonder which one of our RINOs in the upper chamber has the beef with Boyle or Farr (two stellar conservative jurists).  Neither Boyle nor Farr can seem to get a floor vote.  But James Wynn can.  And so can the nitwit who overturned the marriage amendment to our state constitution. 
MORE:
[…] After the treatment some of these nominees were subjected to, it is a wonder that others are still willing to step forward to put themselves through the nominations process. I look forward to continuing to work in a bipartisan fashion to fill these vacancies with qualified nominees like Judge Al Diaz."

In addition to his support for Judge Wynn, Senator Burr has strongly supported the confirmation of Judge Al Diaz since his nomination in November 2009.

"I am disappointed that the Senate has not had the opportunity to vote on Judge Diaz yet," Burr said. "Like Judge Wynn, he is a qualified nominee with an impressive judicial and military background. I hope the Majority Leader will put political gamesmanship aside and make the confirmation of Judge Diaz a priority."