#ncpol: A not-so-conservative #DaoudCrowd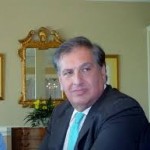 The DaoudCrowd has become a part of the North Carolina political lexicon.  It's got its own Twitter hashtag.  Its hero — 6th district GOp chairman AJ Daoud — posts online frequently under that pseudonym.
AJ ran briefly for state GOP chairman but, as we all know, withdrew at the last minute.  Now, he's made known his intentions to seek the GOP nomination for North Carolina secretary of state.  (AJ ran unsuccessfully for the post in 2012.) 
Well, he's got a formal campaign announcement coming up Monday: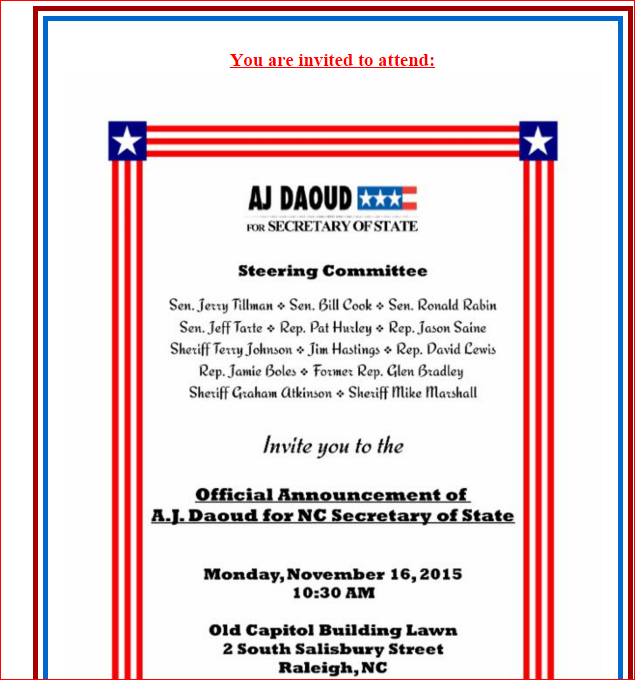 Hmmm.  Look at that steering committee.  Jerry Tillman — solar subsidies, gas tax hike, and "campaign office" on a Raleigh golf course.   Bill Cook and Ron Rabin — Ok, cool.  Jeff Tarte — tholl roads, solar subsidies, coffee-shop bouncer, scared of Nicole Revels.  Pat Hurley  — RINO, basically a seat-warmer.  Jim Hastings — former NCGOP chairman, IRS target.  Jamie Boles — sponsoring legislation that benefits his business, target of Nick Picerno's wrath, keeps his job in Raleigh only because no one else wants it.   Glen Bradley — OK, cool. Jason Saine — solar subsidies, $19,000-plus in clothes.   David Lewis — um, REALLY ????
Granted, to win statewide, you have to reach out to all segments of the party.  But this DaoudCrowd has quite an establishment, ruling class flavor to it — one that might not impress voters ready to rip the ruling class a new one in 2016.  
This is quite a departure from the route he took in his run for state chairman. Hopefully, if AJ gets the nomination, he won't quit against 'Old Lady' Marshall.