#ncga: WHAT? I'm screwing over HALF my district?
It appears our local paper found senator Jerry Tillman — likely in his "campaign office" on a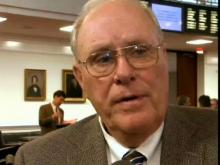 Raleigh golf course — to explain just what's going on with his school funding legislation: 
The General Assembly is considering legislation that would direct more lottery funds for school construction, but Moore County is among 20 counties that would not see any assistance.

Under the bill filed earlier this month in the state Senate, $75 million would be set aside for 80 counties to pay for building new schools and repairing existing facilities.

The money would be directed using a long-established three-tier system that measures counties' economic distress. Tier 1 counties are the most distressed, while tier 3 counties are among the most prosperous.

The legislation directs that the poorest 40 counties, those in tier 1, would receive $2 from the new fund for every $1 they allocate to school construction. The 40 counties in tier 2 would receive a dollar-for-dollar match. The most any could receive is $10 million.

The 20 counties in the top tier — counties like Brunswick, Mecklenburg and Wake along with Moore — get nothing beyond what they already receive in lottery funding now.

Adding to the chagrin of Moore officials, already smarting from a sales tax reallocation two years ago apportioned in a similar way, is that their state senator, Jerry Tillman, is a prime sponsor.[…]
Moore County is roughly half of Tillman's district.  Moore County Schools officials are in the local paper weekly moaning about funding shortages.  Our local paper is beating the war drums for a property tax increase.  And here goes our state senator blowing a chance to get us here in Moore County some real relief.  What does he have to say about it all?:
[…] Tillman, a Republican from Asheboro who represents Moore and Randolph counties and is chairman of the Finance Committee, said in a telephone interview Monday that he mistakenly thought Moore County was in tier 2 and would benefit from the legislation. Randolph, where he lives, is in tier 2.
It's understandable that Tillman, the third ranking official in the Senate majority, would be confused about the details of his district. As we've recounted previously, Tillman rents a "campaign office" on a Raleigh golf course — about 80 miles outside his district — with campaign funds.  MORE: 
[…] "We will have to go back and take a look at it to see if we can do something for everybody," he said of possibly modifying the bill. I will do what I can to help Moore County. I know Moore County has some big needs. We only had a limited amount of money to do something for the school systems that really need the help." […]
*We don't buy lottery tickets here in Moore County?*
Reliably Republican Moore County has typically been an afterthought in state GOP politics. (No need to "buy" votes here.)  Just last year, in Rep. Jamie Boles's primary race, Boles's opponent raised the accusation that Moore County's share of sales tax revenue got siphoned off to Harnett County — home to House Rules Committee chairman David Lewis, a top ally to speaker Tim Moore. 
THIS latest charlie foxtrot would have passed unnoticed in all likelihood if former county commissioner Nick Picerno had not raised a public fuss.