#ncga: NC Senate GOPers reportedly not excited about Woodhouse NCGOP candidacy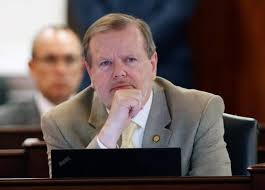 We posted earlier about Dallas Woodhouse angling for the top staff job at NCGOP HQ, and also about a bit of weaselly sneakiness on Jones Street to divert finances away from the state party organs.  
The sneakiness appears to be originating from the House, but sources tell me the Senate might be keen on the idea of diverting funds — especially if Woodhouse gets hired as the NCGOP executive director.  Like the elephant that symbolizes their party, Senate Republicans have long memories.
They remember this story — where Carolina Rising, the pro-McCrory PAC run by Woodhouse was doing polling in key senators' districts and encouraging primary challenges to those senators.  The prospect of the party being run by someone who has been encouraging primary challenges to incumbents is apparently not sitting too well among GOP members in Jones Street's upper chamber.  
I am told that many GOP senators could be persuaded to vote FOR the legislation allowing for "affiliated party committees."  Especially if the NCGOP decides this weekend to hire Woodhouse.