#ncga: Moore County's Boles stands up for Nelson Dollar's wife (and her state job)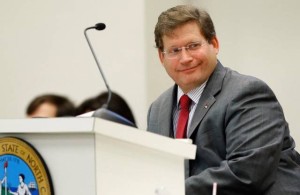 Raleigh was atwitter last week over the dismissal of state Rep. — and House Committee chairman — Nelson Dollar's wife from her high,um, "dollar" job at the Department of Public Safety.   Now, chairman Dollar is trotting out his soldiers on the appropriations committee to give him some cover and stand up for his wife — who apparently MUST be on the government payroll:
A third state lawmaker said Friday that a provision in the budget eliminating a high-ranking position in the state public safety agency did not come from the House's chief budget writer, and criticized the shake-up in management that followed.

Lorrie Dollar, the wife of the budget writer, Republican Rep. Nelson Dollar of Cary, was removed as the Department of Public Safety's chief operating officer this week. The agency says it was due to a reorganization, but the move raised suspicions of retaliation over the unexpected budget cut.

Pamela Walker, the agency's communications director, in an email Friday said the budget provision was problematic.

"While the department respects the General Assembly's ultimate authority to decide to eliminate a position and division, this decision was made in the dead of night without consultation of Public Safety's experts and leadership," she wrote.
Why is Jones Street micro-managing an agency to the point of cutting ONE JOB? *Sniff, sniff.  Nope. No politics being played here.*  MORE: 
The budget cut led to department Secretary Frank Perry then reorganizing his management team. In a memo to his staff this week, he said the management reorganization was meant to make the department more efficient. He has not commented on the appearance of retaliation caused by the management shake-up.

Lorrie Dollar's close associate, Commissioner of Administration William Crews, was also removed from his job, along with Lorrie Dollar's administrative assistant. Walker says the department is trying to find jobs for them elsewhere in state government.

Perry created a new position, incorporating some of Lorrie Dollar's and Crews' responsibilities, and filled it with Gregory Baker, whose position as commissioner of law enforcement had been eliminated in the budget provision.

Baker – who, like Perry, spent most of his career as an FBI agent – became director of N.C. Alcohol Law Enforcement in 2013. Baker later replaced Perry as the law enforcement commissioner when Perry was elevated to secretary in the cabinet of Gov. Pat McCrory.
Okay.  Let's get this straight.  The honorables thought it was important to cut the most senior law enforcement official from THE DEPARTMENT OF PUBLIC SAFETY and to KEEP two "administrators" with no law enforcement experience and a lot of political clout?  *Sniff, Sniff. Nope.  No politics here.*  MORE: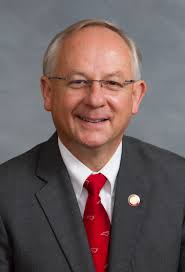 On Thursday, two state senators said the budget cut didn't come from Rep. Dollar, but originated as a recommendation from the chairs of the joint justice and public safety appropriations subcommittees during final budget negotiations. On Friday, Rep. James Boles, a Republican from Southern Pines who was one of the subcommittee chairmen, also said Rep. Dollar had nothing to do with cutting Baker's position from the budget.

"I will assure you Rep. Dollar, the full appropriations chairs and others were not aware of it," Boles said of the plan to add the provision. "Neither was Mrs. Dollar or anybody in DPS (the Department of Public Safety). We were tasked with looking for efficiencies."

Boles said if Dollar and Crews were removed from the management team in retaliation for something that Rep. Dollar hadn't even done, "I think it's a poor decision."

"It's sad the secretary has taken this personally," Boles said. "That was the best-run department, under Lorrie Dollar. I don't know why the governor let it happen."
Oh, okay.  The chairman of the full committee and sub-committees had NO IDEA of the details of the legislation moving through his committee?  On a decision like cutting a senior position from an executive branch agency?  
While we're on the subject, let's look at the propriety and ethics of a committee that oversees appropriations for an agency trying to micromanage the internal HR matters of said agency.  Especially internal HR matters that involve said committee chairman's wife. 
And while we're on the subject of Mr. Boles, let's recall his efforts to push through legislation that directly benefits his private business. 
And let's not forget the appropriation he pushed through to reopen Samarkand that NOBODY asked for.  And the $300,000 bill for an EMS substation (to service that new state facility) that Boles's pet pork project has saddled Moore County taxpayers with.