#ncga: Moore about the speaker's "side" job …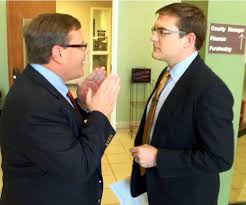 There was quite the hubbub around House Speaker Tim Moore's hiring as the Cleveland County attorney.  Moore assured us there was no cronyism or monkey business.  He asserted that he could balance the pressure and time constraints of (1) running a law firm, (2) being a state legislator, (3) being the speaker and (4) being the county attorney.  Many people speculated about how he was going to do that.  Nick Ochsner — the ONLY drive by still doing any real reporting — has some new information about how Moore gets it all done:  
A local candidate for district court judge has updated his campaign's website to change the description of his work following questions from On Your Side Investigates.

Justin Brackett is running for district court judge in Cleveland County. Brackett is currently an attorney at the law firm of Tim Moore, Attorney at Law, P.A.

Moore was hired to be the Cleveland County Attorney in summer 2015. He has also served as the attorney for the Cleveland County Water Board of Commissioners since 2009.

Public documents provided by both the county and the water board show Moore—and not his law firm—was hired by both the agencies.

In April, Moore told On Your Side Investigates he sometimes sends one of his legal associates to fill in for him at a government meeting, even though nothing in his contract with the county allows that.[…]
Here is a copy of Moore's contract with Cleveland County.  (The county apparently can't locate the signed original.)  MORE:
"Either I go or someone from my office goes. We have four lawyers in our office so if I can't make it then they attend," Moore said of attending county meetings as required by his contract. "When you hire me, it also includes the law firm."

When the board of commissioners decided to fire their old county attorney in favor of Moore, they also hired a full-time assistant county attorney, Andrea Leslie-Fite. Minutes of county commission meetings show Leslie-Fite regularly covers for Moore in his absence.

A spokesman for the water board said a copy of the contract with Moore could not be located but did provide board minutes showing commissioners voted to hire Moore to be their lawyer.

Brackett claimed to work as an attorney for both government bodies on his campaign's website.

"As part of his practice, Justin serves as the General Counsel for the Cleveland County Water Board of Commissioners and as Associate County Attorney for Cleveland County," Brackett's website said.

But the description of his duties for the county changed after an inquiry from On Your Side Investigates asking Brackett to provide documentation showing where he was hired by the county.

Brackett did not respond to multiple emails or a phone call seeking comment.

Instead, the revised language on his website refers to Brackett as an associate contract county attorney.

"A role in which he works under the direction and supervision of the County Attorney, Tim Moore, and handles tasks on behalf of the County as delegated to him by the County Attorney," the website now says.

The updated language on Brackett's website does still refer to him as general counsel for the water board, though, despite the fact that a spokesman for the water board could not provide any documents showing Brackett had been hired in that position when asked by On Your Side Investigates.

Minutes of the water board's February 2009 retreat show Moore was hired as attorney. Specifically, the minutes say the following:

"Secretary Pedersen made the motion to retain Tim Moore as attorney for CCW, seconded by Commissioner Brooks, motion carried."

When pressed whether the water board had ever voted to hired Brackett as its attorney, CCW General Manager Brad Cornwell said he was not aware that had ever happened. But Cornwell claimed the minutes show Moore's law firm was hired to represent the water board, despite there being no mention of any law firm in the motion.

Cornwell continued to defend his position even after On Your Side Investigates pointed out the minutes show the board only voted to hire Tim Moore himself.

"The minutes are written as they are and I am not aware of any additional minutes that provide or show or state something different," Cornwell said.
Oh, yeah.  Here are the minutes he's referencing.
Well, the hiring of that fancy Wall Street firm to intimidate a certain North Carolina TV station is suuuuuure looking like money well-spent.