#NCGA: McCrory blasts Senate for respecting state constitution & concept of balanced budgets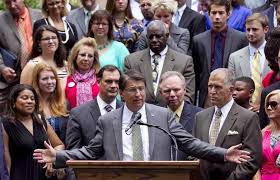 The North Carolina constitution requires a balanced budget.  Gov. Pat and Speaker Thom got together and submitted a revised budget plan that does not balance. Speaker Thom whipped his troops into shape and passed his deal with the governor through the House. The Senate sent it back – without voting on it — because it did not comply with the law.  And that has ol' Pat miffed: 
 Gov. Pat McCrory on Tuesday demanded the state Senate take a vote on a education spending plan he supports a day after the chamber's GOP leaders dismissed the legislation outright.

"I'm very disappointed that the Senate is not taking action on a House bill that was voted unanimously by Republicans and Democrats," the Republican governor said. "I firmly believe the Senate needs to vote on that."

In an unusual move, Senate Rules Chairman Tom Apodaca sent the legislation back to the House without considering it, saying it violated a rule requiring balanced spending plans. He has called the mini-budget – Senate Bill 3 – a "gimmick."
Hooray for the unusual. It's great to have somebody in our capital city taking a stand for balanced budgets.  MORE:
McCrory defended the plan saying it gave teachers pay raises without eliminating tenure and didn't cut eligibility for Medicaid.

"We shouldn't be playing parliamentary maneuvers to disallow senators … from having a transparent and open vote on a very very import vote especially for teachers and educators," he said.

McCrory went further to suggest the Republican leaders in the Senate are part of the "culture of inside the beltline politics" that didn't allow votes, comparing them to the Democratic leadership he has frequently criticized.

"This was a plan not developed inside the beltline," he said, referring to Raleigh. "This is a serious plan that deserves a vote from every senator."
The previous Democratic leadership? Oh, you mean your old golfing buddy Jim Black?
Not developed inside the beltline?  Pat — YOUR HOUSE and Thom's "house" are BOTH inside the beltline.  
I talked by telephone this morning with a couple of honorables from the senate side of Jones Street for their take on this whole matter.  Said Senator A:
The speaker and the governor dreamed this up all by themselves.  They knew it had to come through our chamber.  They keep it a secret from us. It's not balanced. It doesn't comply with the law. We would have told them that if they would have bothered to share it with us before their dog and pony show in front of the press. And we're the bad guys?  We're the ones not being transparent? 
Senator B also threw in his two cents:
I found out about the details of their big media event about an hour before it was going to happen. About a half hour before it was to start, we all got told we could come along if we wanted to.  I, for one, was not interested.  I was not about to be used as a prop in a photo op for something I hadn't seen yet or hadn't been talked to about yet.  I understand that Thom needs to adjourn the session  so he can get out and fundraise for his big race.  And from the polls I've seen, he needs all the help he can get right now.  He could have stepped down in May if he wanted to get down to the business of campaigning against Hagan.  He chose to stay.  He's laying in the bed he made.  We've got some serious business here in front of us about the future of North Carolina.  The governor and the speaker can keep playing political games or they can become serious partners with us in fixing some serious problems."