#ncga: Jones St. GOP set to up spending by ONE BILLION above 2017-2018
This is quite a nasty surprise to break on us the eve of legislative primaries across the state.  Here it is straight from Speaker Timmy's office:
Legislative leaders on Monday hailed the news that Republicans' pro-growth economic policies have generated North Carolina's fourth consecutive revenue surplus, $356.7 million this year, and an expected fifth consecutive revenue surplus of $276.5 million in 2018-19.[…]
Okay.  So they took in more money than they needed.  Will they give the surplus back to us?  (*HA. FAT CHANCE.*)
MORE:
Based on the strong revenue numbers, House Speaker Tim Moore (R-Cleveland) and Senate Leader Phil Berger (R-Rockingham) also announced they have reached agreement on a $23.917 billion spending target for the Fiscal Year 2018-19 state budget, pledging the state House and Senate will keep their commitment to passing a fifth consecutive teacher pay raise while keeping taxes low on middle-class families and small businesses.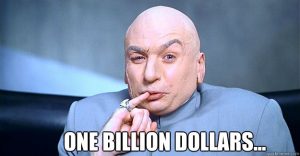 As a point of reference, the last spending agreement — reached in 2017 — was for $22.9 billion.  
So, the alleged party of fiscal restraint and small government is ready to increase government spending by ONE BILLION DOLLARS.  *Might as well. Hey, they took in more money than they expected. Why give it back to the rubes? They'll just blow it at Wal-Mart.*