#ncga: Isn't that SPECIAL ?
Apparently, The Duke of Cleveland has big plans for Jones Street's lower chamber in the near future.  Look at what he sent to me and my fellow caucus members: :
Fellow Caucus Members:

I am emailing to gauge your interest in coming in for special session to deal with the recent radical actions of the Charlotte City Council that I believe pose a real danger to public safety concerning the sexual identity and bathroom matters, as well as the related mandates upon private businesses.  If we do not act, the Charlotte ordinance will go into effect on April 1 and we do not return to the short session until April 25.

If I get enough response in favor (72 members) I will ask Senator Berger to join me in calling a special session.  While special sessions are costly we cannot put a price tag on the safety of women and  children. 

Please respond with your position on this as soon as possible.  Thank you.

Tim

Speaker Tim Moore
North Carolina House of Representatives
16 West Jones Street
Raleigh, NC  27601
919-733-4838
Serving Cleveland County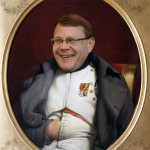 It's apparent that potties in Charlotte are going to factor BIG into the NCGOP battle plan in 2016.  One would hope that they would look at all kinds of unreasonable mandates on businesses — including those requiring the purchase of solar power. 
Though, I see this route playing out much the way the marriage amendment did in 2012.  It will get folks riled up outside the beltline, and get them to come out in droves to vote. And then the lefties will simply go find Richard Burr's faaaaaaaaaaaavorite judge — who struck down said amendment AND threw our congressional primaries into their current state of chaos — to work his *magic* one more time.