#ncga: House GOP's chief fundraiser, a deadbeat?
THAT is what a lawsuit filed against state Rep. Charles Jeter (R-Huntersville) appears to insinuate: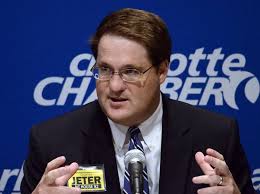 A state legislator from our area is accused of not paying his bills– to the point where a small business owner says he's about to go under.

A lawsuit filed this week in Superior Court alleges the Huntersville company run by State Representative Charles Jeter owes almost $20,000.

Mark Ford has run his California-based trucking company, M and M Courier, since 1998; he says he's about to lose it all because of Mecklenburg County State Representative Charles Jeter and his company, Intermodal.

"$18,350 and I'm going under the 31st of this month. I can not take it anymore financially; it's just amazing how this guy has destroyed my life and business," Ford told NBC Charlotte.[…]
Jeter is in charge of the campaign wing of the House Republican Caucus — overseeing fundraising and candidate recruitment, among other things.  He is a close ally of speaker Tim Moore and his team, as well as former speaker and current senator Thom Tillis and Gov. Pat McCrory.  (The American Conservative Union has identified Jeter as the most liberal Republican in the House.)  MORE: 
[…] Ford filed a lawsuit this week against Intermodal, the Huntersville-based trucking and logistics company Jeter founded in 2004.

The suit alleges Intermodal owes Ford's business more than $18,000 for shipping items across the country.

It's money Ford says he's been trying to collect since June 2015.

Ford added, "He has no intentions of paying my money. I tried to be so patient with this man, and he just refused to pay me; he keeps lying and saying all these things."

Ford sent NBC Charlotte copies of correspondence with Representative Jeter.

On June 16, his company's Charlotte-based lawyer sent a letter requesting payment, suggesting the delay could be chalked up to "an extraordinary failure to communicate".

According to Ford, Jeter's emailed reply was, "I'll send payment immediately."

And the California business owner says that payment never materialized.

NBC Charlotte tried to get Jeter's side of the story, leaving several phone messages and then visiting the lawmaker's company in person– and it appeared Jeter was in the building.

His car was in the parking lot, and his wife alluded to the fact that he was there in the office. She's the one, Jennifer Jeter, who came to talk with us, and she handed us a  written statement saying she's the owner, however, he's the president, and it was just a written statement– they wouldn't say anything on camera

The statement said, "We haven't seen the lawsuit yet, so it would be unfair for us to comment on it at this time. Certainly in small business, and in particular in trucking, lawsuits are filed all the time, and we will handle this through the court system."

NBC Charlotte tried to show Jennifer Jeter the lawsuit, but she wasn't interested.[…]
According to the drivebys doing this report, Mrs. Jeter said the issue really has nothing to do with her husband's service in the North Carolina House:
[…]  But in fact, NBC Charlotte found this statement on Jeter's campaign website, "Charles credits a great deal of his experience in the private sector for providing insight into his positions representing the state of North Carolina."

That's why Mark Ford says he's so frustrated

He says, "Come on, Mr. Jeter, you're a congressman; you have a different oath."

And now Ford says he's about to lose his life's work: a small business that used to employ four people.

NBC Charlotte asked, "How many employees do you have?"

He replied, "I don't have any now. You've had to let them all go. Let 'em all go– I had to let them go. I think about this all day every day, and I pray that he comes to his senses and he pays me so I can keep things afloat."

According to Ford's attorney, State Representative Jeter has 30 days to respond to the lawsuit.