#ncga: GOP's 2016 appointee to fill Hager seat a 2008 Walter Dalton donor?

Talk about bi-partisanship.  
Driveby media reports indicate that Rutherfordton attorney David Rogers has been selected to fill the unexpired NC House term of majority leader Mike Hager.   (A Google search indicates there is ONLY one David Rogers practicing as an attorney in Rutherfordton.)
We turned to the good folks at followthemoney.org to see if Mr. Rogers has been making donations to candidates.  Much to our surprise, we found ONE contribution in 2008 for $700 to the lieutenant governor campaign of then-Senator Walter Dalton (D) by a self-employed attorney named David W. Rogers.  (Dalton, like Rogers, was also an attorney from Rutherfordton.)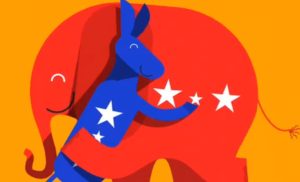 In 2008, Dalton was opposed in the lieutenant governor's race by then-Senator, now-congressman Robert Pittenger (R).