NC-09: McCready praises public schools, but his kids go to pricey private school
Time and again I've come across politicians who sing the praises of public schools, but won't dare to send their own kids to one. Better yet — they attack school choice programs that give a wider range of parents a choice of public or private that they couldn't otherwise afford.
Throughout this seemingly never-ending campaign for the Ninth Congressional District, we've seen example after example of how The Ginger One's rhetoric often doesn't match up well with reality.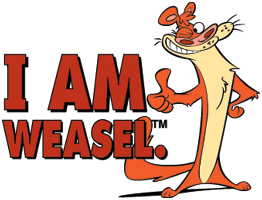 McCready is currently all over social media blasting Dan Bishop for not being a good friend to public schools, and positioning himself as a hero to public schools and their teachers.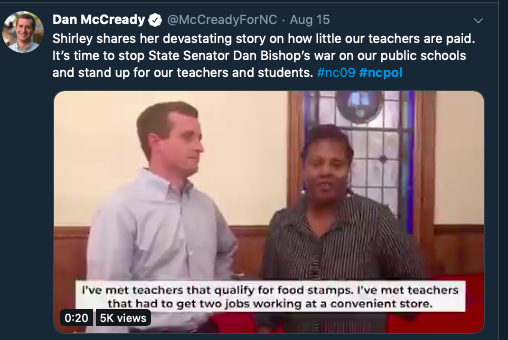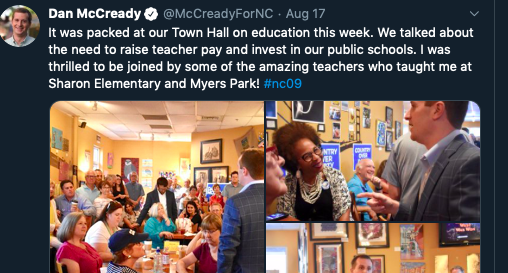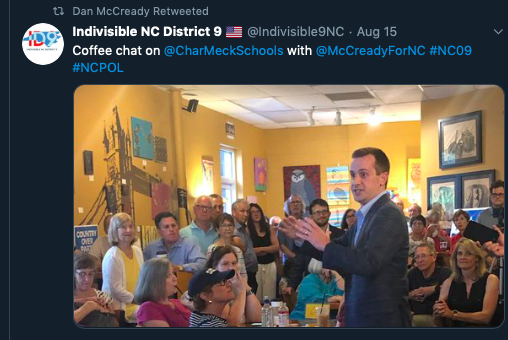 Well,  we had to learn from NATIONAL conservative media that McCready not only sends his kids to private school, but has served on  a private school board.    (Say ONE thing on the  campaign trail, but do another in private life?  This is getting to be a pattern with this young fellow.) :
Democratic congressional candidate Dan McCready of North Carolina sends his children to an $18,000 a year private school, but that didn't stop him from accusing his Republican opponent twice during an event Sunday of having no faith in public schools.

McCready, who is running against Republican state Sen. Dan Bishop in the Sept. 10 special election for North Carolina's 9th Congressional District, said during a candidate forum the Fayetteville NAACP hosted that Bishop's policies were to blame for a small-town North Carolina substitute teacher he spoke with who said her pay has dropped from $14 an hour to $10 an hour, despite being on the job for 14 years.

"This is what these politicians like state Sen. Bishop do," McCready said at the event, according to video of the event the Daily Caller News Foundation obtained. "They don't believe in public schools. They do anything they can to conduct a war on schools."

"We've got to stop this war on public schools," McCready added. "I really believe that some of these politicians don't actually believe in public schools."

Bishop did not attend the candidate forum.

Despite McCready's accusations that his political opponents lack faith in public schools, he has enrolled some of his own four children, ages 2 to 8, in a Charlotte-based private school with a tuition rate close to $18,000 per student.

The school, Trinity Episcopal, posted on its Facebook page in April that "Trinity dad & Candidate for US Congress" McCready had stopped by to speak with its second-grade class about the democratic process.

McCready was also a member of the school's board prior to announcing his first run for congress in 2017. His LinkedIn profile states he was a member of the Friends of Trinity Board in November 2016. McCready's bio on his company's website also states he serves on the school's board.

The McCready campaign confirmed in a statement to the DCNF that McReady's children were enrolled in the private school.
We have ZERO problems with private schools competing with public schools.  Where the problem lies is with politicians who attack others for  not being supportive enough of public education, and then send their OWN kids to private schools.  And, of course, work to kill school choice programs that give lower-income families the same public or private choices that said politicians had.
This revelation about McCready's private school reality conflicting with his public school rhetoric will likely do little to harm his political and financial support from the far-left stalwarts at the NEA and NCAE.  But voters really need to know the truth about this pre-packaged-by-PR consultants empty suit.