"Identity Politics" claim puts Dems on defense
GOP gubernatorial frontrunner Dan Forest denounced 'identity politics'  during the official kickoff for his campaign.  What was he talking about?  The leftist habit of hyphenating Americans, pigeonholing them, and then throwing something to each group that votes, um, "right."
Leftists are throwing a, um, "bone" to men dressed as women — defending their "right" to use the ladies restroom or women's locker room.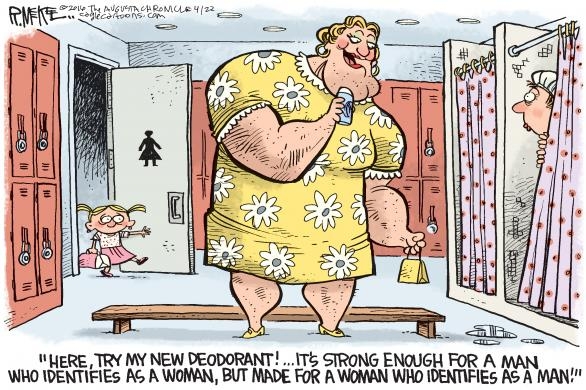 US senator and presidential candidate Kamala Harris (D-California) was in Durham speaking to a mostly black audience at a historically black church thanks to an invite from US Rep. GK Butterfield, chairman of the Congressional Black Caucus.  (NO pigeonholing or identity politics here, eh?)   She didn't mention Forest, but had a response to his message about identity politics:
Presidential candidate Kamala Harris visited two influential African American organizations in Durham on Saturday and Sunday.

Harris told a crowd of several hundred in Durham on Saturday night that it is time for the country to look itself in the mirror and ask, "Who are we?"

"I think we all know part of the answer to that question is, 'We are better than this,'" said Harris, who was the keynote speaker at the Durham Committee on the Affairs of Black People's 84th Founders' Day banquet.[…]
Committee on the Affairs of Black People?  (Change the word "Black" to "White" and just wait for the leftist riots to commence.)   Noooooo  identity politics here.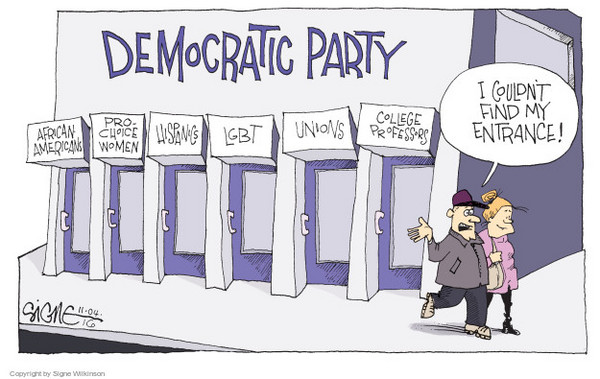 MORE:
[…]"This fight is not new for us. We know how to fight. In fact there is nothing we have gained that came without a fight. … So, let us not be overwhelmed, let us not despair. Let us not throw up our hands when it is time to roll up our sleeves," Harris said.

[…] On Sunday morning, Harris worshipped at St. Joseph AME Church in Durham. The church's old building is further up Fayetteville Street in what is now the Hayti Heritage Center, named for the historic African American neighborhood just ouside downtown.

The newer building is adjacent to N.C. Central University, a historically black university. Harris also attended an HBCU — Howard University, and was in the Alpha Kappa Alpha sorority. Dozens of AKA members wore the sorority colors of pink and green during the church service.[…]
"Historic African American neighborhood"?  Check.  "Historically black university"?  Check.  "Historically black sorority"?  Check.  (Nope.  No pigeonholing or identity politics here.  Nosireee.)
MORE:
[…] It was also the church's "Social Justice Sunday" and a few days away from the anniversary of the Aug. 28, 1963, March on Washington for Jobs and Freedom.

Several state and local elected officials were in the pews, including N.C. Sen. Floyd McKissick Jr., whose father, Floyd McKissick Sr., was one of the speakers at the March on Washington, where the Rev. Martin Luther King Jr. gave his famous "I Have a Dream" speech.

N.C. Supreme Court Justice Cheri Beasley preceded Harris in the St. Joseph AME pulpit on Sunday.

Harris spoke during the service about what Jesus said about "who is your neighbor." She said the neighbor may be that man by the side of the road who has faced hardship, who may have opioid addiction, who may have fled "one of the murder capitals of the world and seek refuge here in our country," is a minimum wage worker who can't afford a one-bedroom apartment or a teacher working multiple jobs.

Harris told the congregation that they have the power to lift up their neighbors and their country. "The measure of our strength is not about who we beat down, it is about who we lift up," she said.

Harris also said she knows the pastor can't tell people who to vote for, but he can them who to pray for, which drew laughter and applause.[….]
Try making a statement like that from  the pulpit at a predominantly white church.
MORE:
[…] RACE CARD AND IDENTITY POLITICS

On Saturday night, Harris told those gathered at the Durham Committee on the Affairs of Black People banquet that the term "identity politics" is a 21st century version of "the race card." Harris said that identity politics is brought up when you talk about civil rights issues, and can mean "hush" or "shut up."

She said talking about where the country is on civil rights issues is not about identity politics, but about America's identity. […]
"Identity politics" is "the race card"?   But then she goes on babbling about "America's identity"?   Exercises like these  two events are all about ginning up anger among black voters just in time for the September, November, and March elections in North Carolina.
MORE:
[…] Harris also said the racial wealth gap is part of America's identity, and wants to invest in down payments and closing costs for African American homebuyers who have been impacted by redlining.[…]
Again, here we are throwing goodies to a specific, pigeonholed group of loyal Democrat voters.
MORE:
[…] She mentioned President Donald Trump, but not by name.

"We've got a man in the White House who got elected on the slogan 'Make America Great Again.' "

"Great for whom?" she asked.

She also touched on education issues, supporting historically black colleges and universities and increasing teacher pay.[….]
HBCUs?   It's good to see the senator is staying away from the pigeonholing and identity politics.
MORE:
Harris said future generations would ask where everyone was at this moment in the country. She said people who experienced it would tell them not just how they felt, but what they did.

"This is a fight that is not only for the soul of our country, this is a fight born out of love for this country," Harris said.

The event drew Democratic state and local leaders, including N.C. Gov. Roy Cooper, U.S. Rep. David Price, U.S. Rep. G.K. Butterfield, McKissick and N.C. Rep. Marcia Morey.

Durham City Council member Mark-Anthony Middleton, a pastor, said grace before dinner. Former Mayor Bill Bell, who was honored at the event, noted that he and Harris are both alumni of Howard University.

Cooper spoke briefly, noting that Harris was attorney general of California at the same time he was attorney general of North Carolina.

Butterfield, a Wilson Democrat, said Harris is "showing the world that African American women can excel and lead this nation."[…]
Talk about killing two birds with one stone —  women AND blacks.
MORE:
[…]

On Sunday afternoon, after her visit to St. Joseph AME in Durham, Harris left for a campaign event in Greensboro.
Greensboro — another locale with a significantly large bloc of black voters.  No race-baiting or identity politics going on here.