NC-09: McCready accepted cash from radical Muslim loudmouth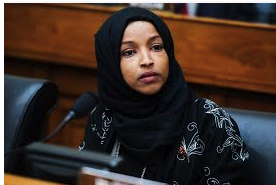 A freshman Democrat in the US House has already made a mark for herself.  Ilhan Omar — a Muslim Somali immigrant — has been  thrust into the national spotlight for alleged anti-Semitic rants.  And she's made her mark in North Carolina's Ninth Congressional District race by making her candidate-of-choice clear:  Dan McCready.
McCready's own campaign  report to the Federal Elections Commission (FEC) indicates he accepted $2,000 from the controversial political figure on November 6.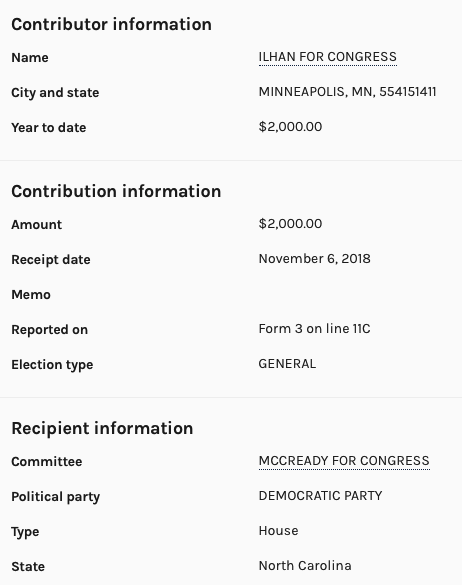 Here's The right-wing extremist Washington Post from March 7:
House Democrats argued acrimoniously Wednesday over whether to rebuke Rep. Ilhan Omar for alleged anti-Semitic remarks, forcing party leaders to confront a growing rift over race and religion that threatened to hamstring the newfound majority.

Omar (D-Minn.) suggested last week that Israel's supporters have an "allegiance to a foreign country," remarks that angered some Democrats who saw them as hateful tropes and pushed to condemn the freshman lawmaker. Her defenders argued that leadership was applying a double standard in singling out one of the two Muslim women in Congress.

In a closed-door Democratic caucus meeting Wednesday morning, lawmakers debated whether to vote on an anti-hate measure in response to Omar.

Let's be clear. Omar did accuse Jews of dual loyalty, a common anti-Semitic trope, and also said the Israel lobby was too powerful. As to the second remark, it is not clear who is too powerful in Omar's eyes. If she thinks the "Israel lobby" constitutes American Jews who act out of loyalty to a foreign country, she is simply doubling down on the anti-Semitism. If, however, she is saying that Israel, not American Jews, is too influential or powerful in American foreign policy, she's wrong but within the bounds of civil discourse (more on that below).

This is her second strike (the first was her anti-Semitic association of Jews with money), and she has earned a rebuke for using the dual loyalty canard. Democrats who say "But President Trump…" need to avoid the whataboutism that eroded Republicans' credibility and moral authority. Running to Omar's defense simply because she is a progressive is reflective of the tribalism that has destroyed the GOP. (Sen. Bernie Sanders of Vermont, predictably, was one of the first to do so.
Here's another link from The Post showing how Jews in Omar's home state of Minnesota are angry, hurt and frustrated over her comments.    Here's coverage about how Omar's mouth caused the US House to pass an anti-hate resolution.
The McCready campaign shows a number of contribution refunds through the end of 2018.

Omar's name is not among the refund recipients.  
If McCready is cool with taking her money, and Omar is cool with giving him her money, folks here in North Carolina's Ninth Congressional District need to ask some good hard questions about what the Democrats are asking them to vote for and invest in.