NC-03: NY Rino-ette, Joan Perry's BFF in DC, pushes 'lady parts' over principles and ideology
The drive-by media looooooooves congresswoman Elise Stefanik (R-NY).  She's the youngest member of the House, and votes a lot like a Democrat.  The national Republicans have bought into the concept being pushed by the Democrats and the drive-bys  that the party needs gender quotas on Capitol Hill. (Female candidates need to win because of their anatomy.)
In fact, here's NCGOP staffer Catherine Whiteford joining the Greek chorus: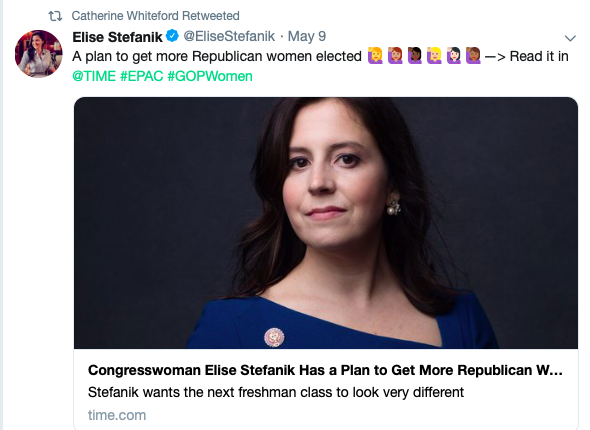 Sooooo —  once again, ideology takes a back seat to something  meaningless.  Stefanik — whose conservative ratings are mired in the 20s and 30s — is now the darling of the in-crowd at the state and national GOP.
The media would have you believe that "conservative" and "female" are mutually exclusive — that you can't have BOTH traits  in one person.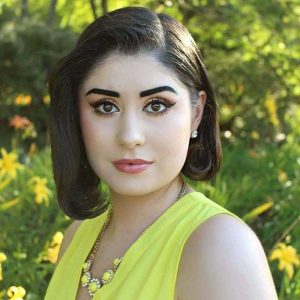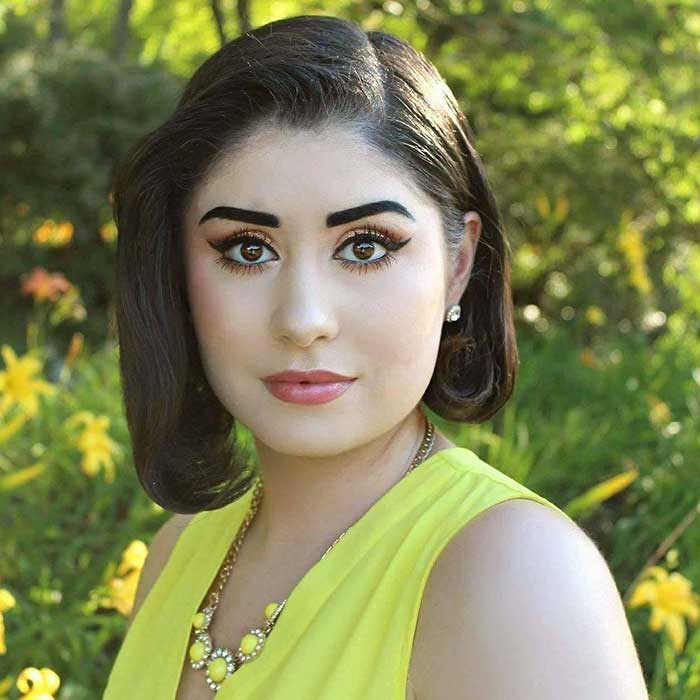 (For the record, I've been pleasantly surprised at how many of THIS site's most diehard fans are female.  And I don't set quotas.  And I don't make special appeals based on anatomy.  They apparently like what they see and read.  That's how it ought to be with the GOP.)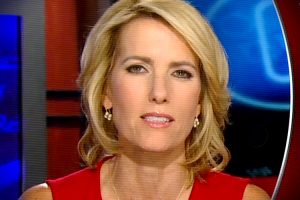 Stefanik was honored recently — along with senator Thom Tillis — as a "pro-LGBTQ member of Congress."  She helped push through the House the Democrat -sponsored Equality Act, which changes the way the federal government views and determines gender.
Stefanik had multiple discussions with the  Leigh Brown  candidacy in the Ninth district, which went nowhere.  And she's  meddling in the Third District race.  Stefanik is behind Joan Perry, while her House colleague Mark Meadows (R-NC) — with conservative ratings in the 90s — is helping Perry's opponent Greg Murphy.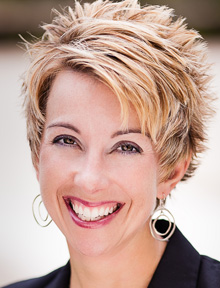 Well, it looks like Stefanik is getting some grief for screwing up Brown's campaign in the Ninth, and being accused of already sand-bagging Perry in the Third:
On Sunday, Politico published an article that seemed to indicate E-PAC — the political action committee formed by U.S. Rep. Elise Stefanik, R-Schuylerville, to help more Republican women get through primaries — was stumbling in one of its first races.

Titled "'Ghosted': GOP abandons female House hopeful despite talk of electing women," the article included an interview with Leigh Brown, a real estate agent and author who lost a recent primary in North Carolina's 9th House District in a special election.

Brown told Politico she spoke to Stefanik initially but E-PAC did not respond to subsequent questions. Brown could not be reached for comment by the Times.

"We tell every candidate, I've talked to over 100 candidates, that they need to meet certain metrics, and in this case, this was not a viable candidate," Stefanik told the Times on Wednesday.[…]
Not viable?  I thought the objectives here were (1) Republican voter registration and (2) lady parts.  Leigh Brown met both of those.
MORE:
[…] Brown came in fourth with 8.8 percent of the primary vote. The winner — Dan Bishop — won 47.7 percent, according to The Washington Post. Brown said she wished she had more advice on hiring a team and running a campaign, not just funding. But Stefanik said she gave that kind of advice.

"We have really frank discussions, particularly with first-time candidates," Stefanik said. "In this case, in our initial conversation she talked about the fact that she assumed she would have high name ID. A first-time candidate does not have high name ID, and that was shown obviously in the outcome in the primary."

Brown also ran into trouble when the Federal Election Commission prevented her from running radio ads for her real estate business at the same time as she was running election advertisements. Brown wound up suing the FEC over the ad issue, according to the Charlotte Observer. Stefanik said she had spoken to Brown, but it was important for candidates to follow FEC guidelines.