#nc-03: Emerson Electric, Boehner tag-teaming Walter Jones?
That's what it looks like.  Take a gander at this invitation for a September 29 fundraiser in DC for Jones's primary opponent, *local boy* Taylor Griffin:
Subject: Fwd: Taylor Griffin

Please Join

Jim Carter
John Green
Will Kinzel
Hunter Moorhead
Jeff Strunk
Emerson Responsible Government Fund

For a Reception Honoring
TAYLOR GRIFFIN
Republican Candidate for NC3
September 29th,2015  5:00 PM
Bobby Van's Steak House
809 15th Street,NW
Washington, DC

$2500/PAC Host, $1000/Individual Host $1000/PAC,$250/Individual
Please make checks payable to:

Taylor Griffin for Congress
PO Box 3451New Bern, NC 28564

Kindly RSVP by contacting Tandy Harrison at H2 CapitalConsulting Group.Phone: (202) 904-8005 | Email: tharrison@h2ccdc.com

PAID FOR AND AUTHORIZED BY TAYLOR GRIFFIN FOR CONGRESS Contributions to Taylor Griffin for Congress are not tax deductible as charitable contributions for federal income tax purposes. […]
Okay, let's start with the hosts.  
Jeff Strunk and Will Kinzel are both recently-departed from the staff of Speaker John Boehne
r.
 Kinzel
is the head lobbyist for Delta Airlines, while
Strunk
is with the predominantly Democrat Forbes-Tate lobbying firm.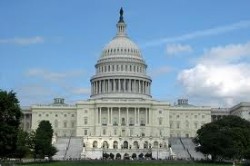 What's throwing us for a loop is Emerson Electric's interest in this race.
Their corporate PAC
was a sponsor of the event.
 Jim Carter, another event host, is VP for Government Affairs (a/k/a LOBBYIST) for Emerson. 
H2 Capital Consulting appears to be a campaign consulting firm specialiing in fundraising.  (The domain name tied to the email address above goes back to GoDaddy — not an actual web site for an actual consulting company.) 
$2500 for steak?  It MUST be good.  (But you have to go to DC to get it.)