The problem with the VA: illustrated in ONE voicemail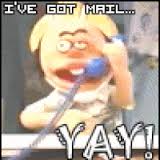 My top secret hotline rang unexpectedly today. I saw on the caller ID that it was a number I did not recognize from Fayetteville.  So, I decided to introduce the caller to my friend VOICE MAIL. Here's what VM passed on to me:
"Hi, this is the Department of Veterans Affairs calling for Mr. Dean. I'm calling to see if you are interested in getting a primary care provider. You can call us back at [number redacted]."
Seriously?  First, that screams SERIOUS HIPAA violation.  Second, they are failing this "Mr. Dean."  (For the record, there is no "Mr. Dean" reachable at my super-secret hotline number.  In fact, there are NO veterans reachable at this number.) Who knows if he'll ever receive — or have the opportunity to receive — this benefit they are pitching. 
The VA has already been popped with all kinds of bad publicity about wait times.  In this day and age, why can't veterans simply be supplied with vouchers to use at the health care provider of their choice?  Is DC that scared — and that beholden — to the government employees unions?