#nc-02: Two guys, a girl and a Crabtree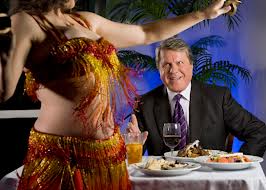 Well, WRAL hosted a debate featuring the three candidates for this US House seat Thursday night.  Here's the video.  Of course, I watched — so you don't HAVE to, and made some observations:
LOOK AT MEEEEEEEEEEEE.  I'M DAVID CRABTREEEEEEEEEE.  North Carolina's very own Ted Baxter was in typical form — preening like  a rooster and trying to dominate the proceedings. (He moderated the 2014 US Senate debate — five candidates, 30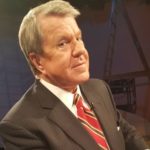 minutes.  I think he talked for TEN of those thirty minutes.) 
He argued with Greg Brannon about ObamaCare.  The Crab-man could not believe that someone would simply kill ObamaCare.  In fact, he opined that something needed to be done to help poor ol' Blue Cross Blue Shield which is bleeding profusely as a result of O-Care.
Putting Crabtree into environments like this where he gets to bloviate about all things lefty really jeopardized WRAL's efforts to portray their news division as fair.  Though, is anyone really trying to do that anymore? 
COLOR HER CONFUSED.  It's always an adventure putting Nee-Nee Ellmers in front of a TV camera.  Ellmers repeatedly asserted that her opponent,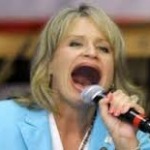 George Holding, had been an 'immigration attorney.'  Holding, and Mr. Baxter Crabtree, had to explain to her that, no, he had actually been a US attorney — a federal prosecutor.    Nee-Nee still wasn't buying it:
"I'm a nurse. I'm in the medical profession. You were a prosecutor. You dealt with immigration.  So, that makes you an immigration lawyer."
The moment of stunned silence on the set, following that bizarre "explanation," was priceless. 
Nee-Nee also tried to hit Holding on congressional travel.  Crabtree mentioned that Ellmers had asked the Ethics Committee to look at Holding's travel.  Holding had to remind Baxter Crabtree, Ellmers, and the audience that the Ethics Committee has no authority to review travel.  Details, details.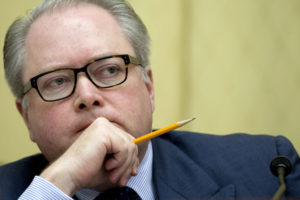 Nee-Nee brought up a reported $30,000 tab she alleged Holding ran up for a trip to India.  Holding defense the trip on a number of grounds — first and foremost, that he was asked by a committee chairman to lead a delegation, and it was approved by the speaker himself.  
Holding also added that the $30,000 figure covered costs not just for him — but for  a total of FOUR members of Congress, two aides, and two military attaches.  Details, shmetails. 
Holding, on his travels: "I don't believe what Barack Obama and his State Department tell us about what's going on in the world.  I want to hear first hand from our allies who are out there fighting ISIS – fighting terrorism around the world."
WHO LOVES TRUMP MORE?  All three candidates — Brannon, Ellmers, and Holding all said they will enthusiastically back Donald Trump if he does become the GOP nominee for president.  Ellmers went as far as describing herself as a "leader" in the Trump campaign.  That led to this exchange: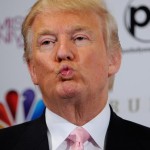 Holding: "On March fifth, Renee Ellmers told the media she was supporting John Kasich — that he was the only adult left in the race.  In Chatham County, that's where she said it.   On March 15th, 3:30 in the afternoon, late in the day, she says she's for Donald Trump.  She endorsed Kasich at a time when she thought it could help Kasich and then she comes along and endorses Trump at a time when it really can't help him in North Carolina because voting was already underway. I think Renee Ellmers is for Renee Ellmers."

Ellmers: "As much as I appreciate the fact that you believe because I voted — I put a stone in a box in a straw poll and said today I'm voting for John Kasich at  county convention.  It wasn't an overwhelming endorsement.  As much as I'm sure John Kasich was pleased to get that, that wasn't what it was."
MO' MONEY, MO' PROBLEMS.   One of the more interesting segments came when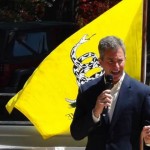 Crabtree read a question to Brannon from a viewer.  It pointed out that Brannon owed $175,000 to the IRS, and faced financial penalties as the result of coming out on the wrong end of a civil suit for misleading investors.  Crabtree asked: "When you are having so many problems with your personal finances, how can we send you to Washington to handle ours?"
Brannon responded by pointing out that the IRS debt was due to ObamaCare killing off 40 to 60 percent of his medical practice.  He said he was working on paying it all off.
NEE-NEE IS OFFENDED.   Nurse Ellmers does not appreciate having her conservative credentials questioned.  Said Nee-Nee: "It's a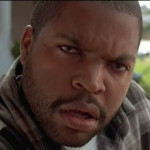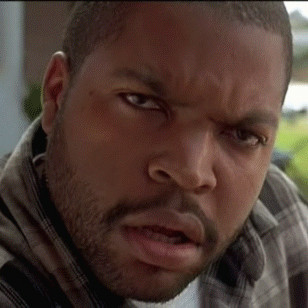 form of bigotry, saying someone's not conservative enough. […] If you say you're conservative, you are."
Hmmm. * Kind of like if you say you're backing John Kasich — you are? *
Votes, Schmotes.   Ellmers and Holding traded shots on each other's voting record.  Holding rebutted Ellmers claims –

– during the debate and in her ads — that he did not vote to fund the military.  Holding said Ellmers is citing the Omnibus deal with Obama that required an increase in domestic spending to match military spending, and he wasn't interested in going along with that.
Holding countered by pointing out Ellmers was ONE of SEVEN House GOPers to vote against defunding Obama's executive order on amnesty.  He also pointed out she was the only one to vote with the Democrats in opposition to a bill prioritizing the deportation of sex offenders.
June 7, folks.