#nc-02 [Renee & LuMaye. (Look Away!)]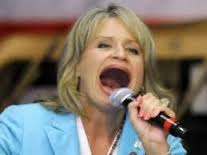 It's always fun when Big Govt. Barbie plops herself down in front of a microphone.  She sat down with Bill LuMaye in Raleigh, this week, and — once again — she did not disappoint. 
The subject this week was the vote on the super-secret TPA and TPP trade agreements.  Ellmers started spitting out her talking points so fast that ol' Bill appeared to join his listeners in a serious state of confusion.
First of all, Ellmers touts these agreements with a press release bearing this headline: Ellmers Supports Transparency and Accountability in Trade Agreements. 
Wait.  Aren't these the deals based on documents that are locked up in a super-secret heavily-guarded room in the Capitol?  Where you can't take notes or make copies?  Where you will be arrested if you leak details of said agreement?  Transparency?  Seriously?


LuMaye asked Ellmers about the super-secret room.  Ellmers replied:
"None of us even know where that is."
Well, the folks at Breitbart sure managed to find it.    (Thanks for confessing to your constituents, Renee, that you are out there trumpeting — and voting for — something that you haven't even read.)
LuMaye asked Ellmers WHY we need TPP or TPA.  Ellmers replied with the US Chamber of Commerce propaganda that "95 percent of the market lives outside the U.S."
Alan Tonelson, writing in The Hill, begs to differ with that statement:
The strongest argument for Congress granting President Obama sweeping authority to negotiate new trade deals seems indisputable: Americans make up only 5 percent of the world's population. Consequently, agreements that reduce barriers to selling to the 95 percent of global consumers who live outside the U.S. matter greatly.

Look closely, though, and the 95 percent figure reveals itself to be about 95 percent phony.

Its most frequent users — who include the president's top economic aides, Congress's leading trade policy voices and America's most powerful business groups — either don't know or won't acknowledge that very few of these potential customers have any meaningful ability to buy products or services from the United States.

The latest World Bank research reports that 17.5 percent of the world's population lived on the equivalent of $1.25 per day or less in 2010. And most of the rest weren't doing much better than these hundreds of millions trapped in "extreme poverty" — another 18 percent of humanity lives on between $1.25 and $2 a day.

Economist Charles Kenny of the Center for Global Development pegs global median income at $3 to $4 per day, meaning that half the world's population earns less than those totals.

Yet are the world's workers faring better than the overall population? Not enough to offer much opportunity for U.S. exporters. […] 
Ellmers said Congress needs to pass TPP and TPA so Congress can have some influence on those treaties themselves.  That statement confused listeners — and, apparently, LuMaye. ( Article II, Section II, Clause II (The Treaty Caucus) of The US Constitution makes it pretty clear that agreements with other countries need to be OKed by Congress. We don't need a new agreement for that.)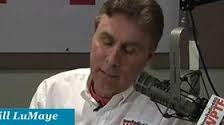 LuMaye mentioned that section of The Constitution to Ellmers, who then backtracked and admitted he was right.  (I'm still waiting for her to come up with ANOTHER good reason to support TPP or TPA.)  
This woman is so Washington.  She's more worried about what Boehner and McCarthy think about her than what we think.  We're going to have at least two more choices in the May GOP primary.  Keep that in mind.