Murry drops AG bid, clears GOP field for Bishop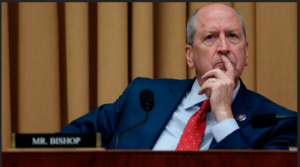 Many of you may haven had the chance to meet Tom Murry in recent months. He's been criss-crossing the state seeking support for his bid for the open attorney general position.  Murry is a licensed attorney, a degreed pharmacist, a former state courts official, a former legislator, and a current state prosecutor.  He did a pretty good job of presenting himself as just the kind of person average North Carolinians would like to see in office.
In a conversation with us today, Murry confirmed his move — suggesting that a 2024 run for the state court of appeals was looking like a much better fit. 
Murry's move leaves current 8th district congressman Dan Bishop as the sole GOP candidate for attorney general.  Throughout his political career, Bishop has made it a habit to change jobs every two to four years.  He's said and done some things in each post that warmed conservatives up to him.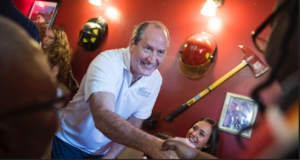 In DC, he has fought as part of the House Freedom Caucus. In the wake of the GOP takeover of the US House, Bishop made some noise about getting to the bottom of the J6 mess and the overall weaponization of the federal bureaucracy against Biden political opponents.  Bishop was a leader in the 15-round speaker vote back in January that led to some concessions by RINOs to appease conservatives and clear the way for Speaker Kevin McCarthy.  Bishop had been making a name for himself as a national conservative leader and a potential 2026 opponent for horrid Thom Tillis.
Bishop giving up his House seat and aiming for Raleigh should help Tillis and his fanboys breathe a little easier.  A credible challenger for 2026 is out of the way.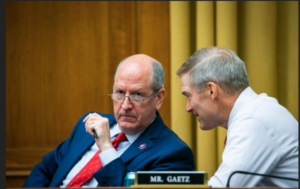 A few red flags have popped up for us about Bishop in recent months.  First, his ten-day million-dollar fundraising haul. (It took him MONTHS and MONTHS to nail down those pledges, by the way.)  If you read his initial treasury report, it looks like a who's-who of the Thom Tillis Fan Club.  Page after page of Mecklenburg RINOs.   Granted, this may just be a bunch of folks happy about having a home-grown "horse" in the race.
Endorsements.  It's been interesting to see Bishop swooning all over party-switcher (and HUUUUUGEE Planned Parenthood fan) Tricia Cotham.  Bishop has also made a huge deal of passionately endorsing the gubernatorial campaign of controversy and scandal-laden Mark Robinson while there are three other credible candidates in the GOP field.
"Friends" in high (some may say LOW) places.  We spoke with a source very close to Bishop's political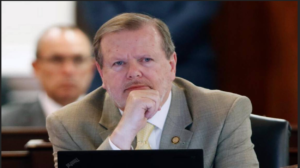 operation. This source was excited about an alleged promise by senator Phil Berger to "take care of and look after" Bishop once he's elected AG.  In light of recent reports around the sleazy casino deal currently being batted around Raleigh, that does not come across as comforting or "exciting" news.  I, like many others, would love to see an independent-minded conservative running the show at NC DOJ.  Not one controlled from a corner office on Jones Street.
J6 and weaponization.  Where did all that tough talk go?  We live in really scary times.  Pro-life activists who pray in front of abortion clinics are getting their doors kicked in by feds.  Bank records of Trump supporters are being seized by feds.  Trump supporters are even being "de-banked."   Some of our fellow Tar Heels are being pulled into this nightmare — including THIS Raleigh area resident:
As attorney general, you're our last line of protection against an overzealous federal leviathan.  No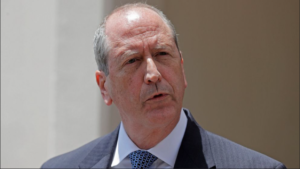 matter if we're talking about the EPA, the IRS or the DOJ.
People are getting hefty fines and prison sentences for praying in public and standing IN the Capitol building.  Meanwhile, BLM and Antifa yahoos are being given tickets for rioting, looting and burning cities, forcing the evacuation of The White House, injuring scores of Secret Service, and miscellaneous mayhem across DC on Inauguration Day 2017.
We're suddenly getting a lot of silence from Bishop when we really need to hear from him.  Perhaps he's listening to the same strategists who have clammed up Mark Robinson?