Morgan foe back in the political saddle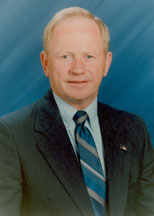 Former state Rep. Richard Morgan's power-sharing deal with Jim Black and the House Democrats is forever ingrained in North Carolina political history. A small group of conservatives — nicknamed 'The Safari Club" because Morgan and Black banished them to the back of the House chamber and offices the farthest from the House floor — waged guerilla warfare against the chamber's left-of-center ruling coalition.
State Rep. Frank Mitchell (R-Iredell) was one of the more outspoken critics of the Black-Morgan ruling junta.  How deep was the animosity between Richard Morgan and Frank Mitchell?  Check out this excerpt from a 2004 profile of Morgan:
One of [Morgan's] chief Republican nemeses is state Rep. Frank Mitchell, who until a few weeks ago was answering his own phone in his legislative office because Morgan refused to grant him funds for a secretary. "He's a mental case," Mitchell snapped. "He does things no sane person would do." 
Morgan thought he would get the last laugh on Mitchell and the rest of The Safari Club.  He and his small group of Republican supporters worked with Jim Black and the Democrats on redistricting plans that would eliminate the districts of Mitchell and many other Safari Club members.
Mitchell left the state House in 2004, but continued to work hard — behind the scenes — against Jim Black, Morgan, and Morgan's small GOP clique.
Morgan left the state House following his 2006 loss to GOP challenger Joe Boylan.   He ran unsuccessfully for DPI Secretary in 2008 and state Senate in 2010.
Mitchell's political fortunes have been much better.  He was elected to the Iredell County Board of Commissioners in 2010.
Mitchell recently made the news for a non-political matter.  He and his wife cancelled plans — at the last minute — for a cruise on the Costa Concordia, which capsized off the coast of Italy more than a week ago.  The Mitchells were scheduled to be passengers on THAT fateful voyage.