More Polling: Tilli$$$ fortunes slide deeper into the toilet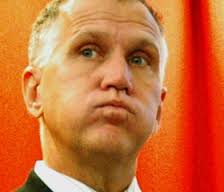 Morning Consult has come out with popularity polls for all 100 US senators for the fourth quarter of 2017.  Here are the highs and lows:
Bernie Sanders is STILL the most popular senator with the home folks.  Hawaii's Schatz(D) is a close second.  Wyoming's Enzi (R) is third (and the most popular Republican in the Senate).
Thom Tilli$$$ has a 37% approval rating.  To put that in perspective — Nevada Republican Dean Heller has a 41% approval rating and a conservative primary challenger.  At 41%, he's being written off as "dead meat."
Who fares worse than Tillis?  Robert Menendez (D-NJ), facing all kinds of federal corruption charges is at 29 percent.  Arizona's Jeff Flake (R), who is quitting to escape the ire of his voters, scores 32 percent.  Mitch McConnell has 32 percent approval back home.  Kansan Pat Roberts (R) — who escaped a vicious primary challenge last time around — is just under Tillis at 36 percent.
Only THREE sitting senators have worse favorability ratings back home than Tillis.  (One is under federal indictment.)
Thirty percent of poll respondents (NC voters) said they either didn't know Tilli$$$ or had no opinion.  The man is halfway into his term.  Todd Young of Indiana (R) also has a 30 in that category.  Democrat Gary Peters (Michigan), elected the same year as Tilli$$$, has a 36.