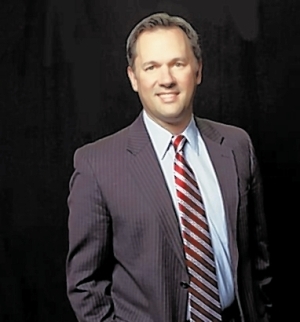 Throughout our state's history, lieutenant governors have put their own personal touch on a job with a limited scope of powers.  Dan Forest, one of the two GOP candidates for lieutenant governor still standing,  would like his tenure in office to be marked by principled leadership in the areas of education and economic development.  
Forest, an architect from Raleigh making his first run for political office, is facing off against Wake County commissioner Tony Gurley in a July 17th runoff.
I caught up with Forest on his way to Memorial Day festivities in Spring Lake — a small town outside Fayetteville which is home to quite  a few service members and veterans from Fort Bragg. (He was taking a break from a home-schooling conference in Winston-Salem.) :
"We finished first in the primary thanks to hard work — outworking everyone else.  That's something we're going to keep up through the runoff, the general election, and our time in office in Raleigh.  We've been taking our message to all four corners of this state for the last two years.  We've been to quite a few places where candidates typically don't show up during campaign season.  We're letting people know how much we care — that we're not going to forget about them once all the votes are counted."
Forest said his decision to run for office was based on what he sees as a "leadership crisis" in Raleigh:
"I believe I can really add something significant to the discussions in Raleigh.   I am an architect. Architects are — by nature —  visionaries, problem solvers and planners.   I see the lieutenant governor job as an opportunity to use my executive and administrative skills and experience to help craft some much-needed reforms and sell them to the people of North Carolina.  I am looking forward to working with Governor Pat McCrory to turn things around here in North Carolina and build a better, brighter future."
Forest said his role as lieutenant governor will earn him a spot on the state Economic Development Board and a platform to push for a change in state economic policies:
"Jobs and the economy are huge issues right now for our state.  We've got the 44th worst business climate in The United States.  We've got one of the highest corporate taxes in the nation.  We've got the highest gas tax in the southeastern United States.   The policies being pushed by our state government are basically telling businesses to go somewhere else.    That's got to change. "
Forest said he would like to take the lead in formulating a strategic plan to improve the business climate in The Tar Heel State:
"We need to pay more attention to small businesses.  I'd like to see a special tax bracket for small business people so they're not being punished for stepping out there and showing some initiative and taking risks. I'd also like to see the corporate income tax eliminated.  It accounts for only a tiny sliver of the general fund.  We really don't need it. "
There has been quite a bit of debate on whether the state should be offering incentives to businesses contemplating a move to, or an expansion in, North Carolina.
South Carolina and Virginia and Tennessee have had remarkable success in recent years using incentive packages to lure businesses away from North Carolina.  Forest says that is not an excuse for ante-ing up in the incentives game:
"All of those states have much more attractive business climates and tax situations than we do.  We need to get to work on moving away from this #44 business climate ranking and moving a lot closer to #1."
Forest says incentives can be quite unfair :
"If we have six companies here making tires, and we offer a huge pile of money and tax breaks to a foreign company to come here, set up shop, and start making tires, how fair is that to the tire companies who have been here, long-term, investing in our state?  I don't believe the government needs to be in the business of picking winners and losers."
He qualified that position by saying the arrival of a 'game-changer' could alter his thinking:
"Let's say a giant like Boeing — which came to Charleston — wants to move here, build a facility, hire a lot of people, and make a long-term commitment to North Carolina.  That would be a tremendous opportunity for our state.  That would definitely be a 'game-changer'  where we might have to have a discussion about incentives — which would have to include some strong performance-based conditions. "
Forest says, as lieutenant governor, he would also be very active in education policy — championing the ideas of  school choice, vouchers and tax credits, and increased local control:
"It costs $13,000 per year to educate a child in our public schools.  It costs $6,000 per year to educate that same child in a private school.  The difference lies in all of this money going toward capital expenditures and bureaucracy in the public schools.  There is plenty of money out there to get the job done. Unfortunately, in the public schools, there is a lot of money going into the wrong places."
The Raleigh Republican's campaign is replete with imagery from the beloved classic film "Forrest Gump."  His campaign slogan is 'Run Forest, Run" and he has been traveling the state on a brightly-colored customized bus nicknamed "Bubba." :
"When your name is Forest, you know you're going to hear 'Run Forest, Run.'  This is our way of injecting a little fun, a little levity, into the campaign process, which is often very serious and very tiring.  I run into people all the time, who I don't even know, who greet me with 'Run Forest, Run.'  The slogan — and its ties to the movie — really connect with people.  I've told many of my supporters that, after I'm elected lieutenant governor, they can refer to me as 'Lieutenant Dan.'  "