McCrory for Senate. (*SIGH*)
The worst kept secret in the world has now officially gone public.  Former governor Pat McCrory has announced he's running for US Senate in 2022.  He joins former congressman Mark Walker on the race's GOP side.  (There has been some speculation that former congressman George Holding may jump in on the GOP side.)  Congressman Ted Budd is reportedly planning to join the GOP field this week.  Lara Trump,  the former president's daughter-in-law, is still a possibility for entering the race.
Paul Shumaker.  The McClatchy article announcing the McCrory campaign let slip. that GOPe favorite Paul Shumaker —  the man who brought you Richard Burr, Thom Tillis, AND Robert Pittenger — is part of the McCrory Senate campaign.  In the early 2000s,  Shumaker helped lead a PAC that targeted conservative Republicans in the North Carolina House for defeat. 
Trump "language."  It's a typical Shumaker move to have his clients — regardless of how they feel about Trump — speak admirably of the former president and parrot his slogans such as "America First."   We found an article detailing a memo that explained why McCrory did not get an appointment to the Trump administration:
President Donald Trump considered former North Carolina Gov. Pat McCrory for a position in his administration, according to records obtained by Axios.

However, as with other potential nominees, those records show the Trump administration highlighted some "red flags."

Potential appointment snags in the 10-page file on McCrory range from accusations of "favoritism toward Duke Energy" and having "thin skin," to "comments critical of Trump."

McCrory is one of dozens of Republican politicians and officials identified by the Trump transition team as potential suitors for top posts in the administration, Axios reported late Sunday. While some—such as former EPA leader Scott Pruitt and former Health and Human Services Secretary Tom Price — were appointed despite concerns and later resigned, McCrory wasn't picked.

After losing a tight race to Democrat Roy Cooper in 2016, McCrory met with Trump's transition team in New York City. And a source close to Trump's team told the Charlotte Observer that it would "definitely" find a spot for McCrory.

But he was never appointed. McCrory, who now hosts a radio show and teaches a lecture series at UNC-Chapel Hill, didn't immediately respond to an email or phone call on Monday morning.
Campaign web site: Launching a campaign website on the same day the campaign is announced may be indicative of possible campaign law violations.  What's even more curious is the sloppy, amateurish condition the site was in, as of 10:45 AM Wednesday.  The site description that appears on the browser tab is "mccrorync-Ip".   That is supposed to be the information that Google and other search engines latch onto so that people can search for your site.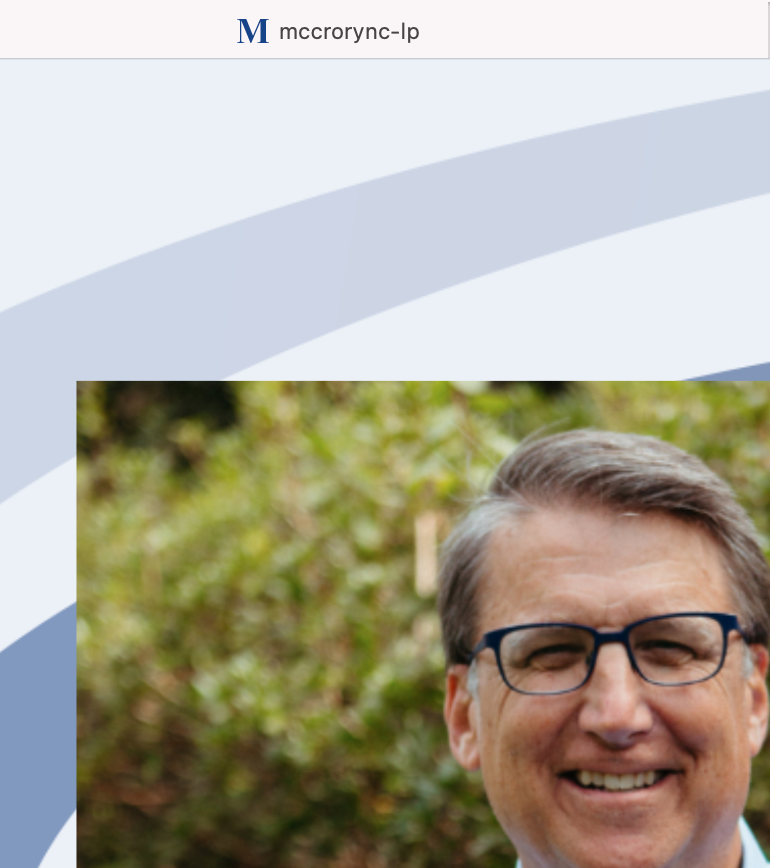 Most of the links on the home page don't work.  They all lead to a page entitled majoritystrategieshosting.com .   Majority Strategies is a Florida-based consulting firm that real recently employed McCrory's nephew, Patrick Sebastian.
The site does not contain ANY position papers and several photos do not load when you pull up the site.
Here's the site's sub-heading:
Washington elites could learn a thing or two from a proven conservative leader like Pat McCrory. It's time to elect a senator who has risen above the rhetoric and delivered results for North Carolina. […] 
Do all those appearances on DC-based "Meet The Press" earn McCrory membership in the Washington elite?  And "a proven conservative leader"?  How about all those times Mayor McCrory fought with Charlotte conservatives to push through tax increases and budget-busting spending?
How many times did then-Governor McCrory veto conservative legislation passed by the GOP-controlled legislature because it did not spend / regulate enough?  How many overrides of his vetoes occurred? And what about the time he and then-Speaker Tillis sided openly against Senate leader Phil Berger to defeat Berger's more conservative budget proposal?
Don't let the aw-shucks demeanor, the winning smile, and sympathy for his 2016 loss cloud your judgement.   Senator Pat McCrory will be a perfect complement to "gay rights activist" Thom Tillis and the retiring Richard Burr.