L'affaire LaRoque gets some federal attention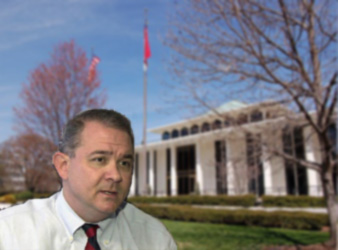 Sarah Ovaska, at NCPolicyWatch, has been on top of the scandal swirling around state Rep. Stephen Laroque (R-Kinston) since the beginning.  Now, she's confirmed that the U.S. Department of Agriculture has opened an investigation into the matter:
The federal agriculture department has opened an ongoing investigation into state Rep. Stephen LaRoque's two economic development non-profits, a spokeswoman for the agency confirmed.

The Kinston-based non-profits – the East Carolina Development Company and Piedmont Development Company – have taken in $8 million in federal funding since 1997, as part of the U.S. Department of Agriculture's Intermediary Relending Program. The program aims to combat poverty by allowing non-profit organizations to borrow money from the federal government and then lend the funds out to struggling businesses in rural areas.

Delane Johnson, a spokeswoman for the USDA's Rural Development division in North Carolina, confirmed Wednesday that the agency is conducting an investigation into LaRoque's non-profits.

"There is a federal investigation going on related to Stephen LaRoque and his intermediaries," Johnson said. "I'm not at liberty to discuss him nor his non-profits at this time."

Joe Cheshire, a high-profile Raleigh defense attorney retained by LaRoque, did not respond to recent requests for comment. LaRoque has declined requests to speak with N.C. Policy Watch about his management of his non-profits on several occasions, but said in an August press conference that has nothing wrong and ran the non-profits according to federal agriculture department rules.

An N.C. Policy Watch investigation from last summer found LaRoque, a Kinston Republican serving as a co-chair of the powerful House Rules Committee, received a plump salary (up to $195,000 a year) from the federally-funded charities and had members of his immediate family in key roles on the non-profit's board of directors. Loans were given out to close associates, including two fellow GOP legislators, and LaRoque loaned his own for-profit business $200,000 from the non-profit, a potential violation of IRS tax laws that prohibit non-profit leaders from receiving personal or excessive benefits from tax-exempt charities.

Johnson, the USDA spokeswoman, referred further comment to the USDA's Office of Inspector General. The OIG office did not confirm nor deny the existence of an investigation.

"We simply don't comment on investigative matters or acknowledge whether we have something ongoing," said Paul Feeney, a Washington-based spokesman.

The OIG office has two branches for conducting investigations, an audit division as well as an investigation division where law enforcement agents look to see if matters run afoul of criminal laws. No information was available from USDA about the nature of the probe into LaRoque.

In addition to the USDA investigation, LaRoque is also facing the possibility of an inquiry into his actions by his fellow legislators, after N.C House Minority Leader Joe Hackney asked N.C House Speaker Thom Tillis in November to refer the matter to the Legislative Ethics Commission for review. Tillis has asked the bipartisan Legislative Ethics Committee to decide if looking into LaRoque's federally-funded non-profits falls under the committee's jurisdiction.

Those legislative committees work largely in secret, and the status, scope and nature of any probe is not publicly known. […]
 The NCGOP made the ethics of the Democrat majority a major issue in the 2010 elections.  It's disappointing that we had to wait for Joe Hackney to say something, in order to launch an internal probe. Why aren't Republicans policing their own?  Two other Republican legislators, Rep. Mark Hilton and Sen. (former Rep.) Debbie Clary have been linked to LaRoque's nonprofits.  Clary has retired from the legislature, and Hilton is not seeking reelection.
Tillis and his team need to get serious about ethics and start showing voters that they
ARE
different from Jim Black, Marc Basnight & co.  How proper is it for LaRoque to retain his floor privileges and committee chairmanship while this cloud is hanging around out there?