Just GIVE the lady what she wants.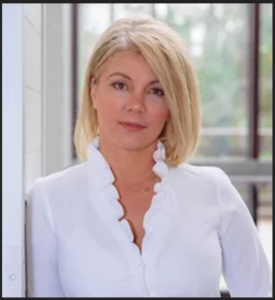 Sloan Rachmuth has to be smiling as the current legislative session nears an end. She and her organization, Education First Alliance, are batting 1000 on Jones Street.  And just think —  she didn't have to grease the pocket of even one single political cockroach to make it all happen.  
Sloan's three BIG goals for the session are all on their way to becoming law.  Each of the three sounds soooooo common sense, but it took quite a bit of work to get them where they now are.  (Common sense is not always a factor in the goings-on at our state legislature.)
EFA targeted trannies playing in girls sports, after a female high school athlete from Cherokee County was injured in a volleyball match by a transgender (boy-to-girl) athlete. After lots of drama over on Jones Street, the bill now sits on Gov. Cooper's desk awaiting a signature.  (The votes are there, we understand, to override a veto.)
The Youth Protection Act was also a big, hard-fought win for Rachmuth and EFA.  The bill — inspired by EFA's reporting on the transgender grooming of minors at UNC, ECU, and Duke.  Rachmuth got dismissed as a liar and fantasy-peddler.  None of this was being done anywhere, we were being told by officials from the three schools, and at the highest levels of the General Assembly.  After the emergence of some damning video and email evidence proving EFA's case, the bill sailed through both chambers of the legislature.  (Some folks — like BigMouth Henry Hinton — are still out there trying to deny all of this stuff exists. But they are now on the fringe of this issue.). This bill is sitting on Cooper's desk also awaiting a signature. 
The Parents' Bill of Rights – amazingly – was also a huge battle to make happen.  Who knew that demanding parents get the final word on what happens to their kids would be so controversial?  Cooper also has this. 
The amount of pushback on passing any of these three — even within GOP ranks – was shocking, to say the least.
Here's EFA's Rachmuth on her triple-play:
[…] "These much-needed laws respond to the reality that children are under attack in North Carolina. Activist teachers and healthcare workers groom children to accept sexual concepts and identities that are beyond their reality behind the backs of parents.  

Our reporting uncovered claims that North Carolina's leading hospitals treat transgender toddlers. We have uncovered and exposed the predatory and profitable classroom-to-operating room pipeline concocted by ECU Health and Duke that targets low-income children in Title I schools in an email effort to recruit children as young as thirteen for experiments using cancer-causing hormones.

The public has had enough.

They are horrified that our tax dollars support medical experiments on children which have been proven to permanently damage the lives of children in America, the UK, Sweden, Finland, and beyond. North Carolinians are paying attention to almost daily news reports about these scientifically dubious and dangerous chemical treatments for children, and they are suspicious of doctors promoting these drugs as a cure for identity problems.

Our organization opposes all this because these practices and treatments are predatory, permanent, and based on lies.  

A unified effort is required to pass laws to protect children in the classroom from being coerced into becoming patients seeking medical "gender changes." They must also enact a complete ban on giving drugs to children that can cause mood disorders, brain swelling with vision loss, sterility, and suicide. It's difficult to imagine why a majority of elected Democrats support treating children with therapies banned for use in minors in Europe. However, it underscores the need for Republican legislators to lead the effort and swiftly to protect the children and families of North Carolina."