Jim DeMint: Common sense's lone voice in the U.S. Senate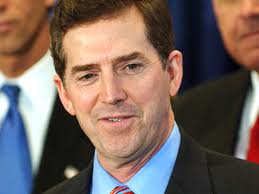 For North Carolinians like me who appreciated Senator Jesse Helms — and are dismayed by what we now have representing us in the Senate,  South Carolina's Jim DeMint gives us some hope for the future.
Like Helms did in his day, DeMint rejects the establishment calls to work with the Democrats and get something done.  He regularly ends up on the short side of lop-sided votes while standing up for his belief in the idea of limited government.   Jim DeMint promotes a lot of what most people outside of the beltway think of as 'common sense.'  The fact that a lot of his legislation gets overwhelmingly voted down doesn't bode well for the future of this country.
The Senate's latest beatdown of a piece of DeMint's legislation is absolutely mind-boggling:
Sen. Jim DeMint blasted the federal government Tuesday after the Senate voted down a proposed amendment that would have protected a popular over-the-counter asthma inhaler from a Food and Drug Administration looming ban.

The FDA plans to take an epinephrine asthma inhaler known as Primatene Mist off the shelves. The product is currently the only FDA-approved over-the-counter inhaler and is being banned because it uses chlorofluorocarbons, or CFCs, as a propellant. The substance is considered harmful to the ozone layer.

DeMint's proposed amendment — which would have cut off funding for the implementation of the ban — failed by a vote of 44-54.

"Fifty-four Senators voted to appease extreme environmentalists by banning inhalers that millions of Americans depend on to breathe," DeMint, R-S.C., said. "This ban won't do anything serious to help the environment but it will force asthma suffers to spend two to three times more on prescription inhalers, leading many low-income Americans to seek less effective remedies."

He added: "Once again, Washington is willing to put Americans at risk in the hopes of appeasing special interests."

In October, DeMint's office noted that CFC emissions from U.S. inhalers make up just a tiny fraction of total CFC emissions.

The FDA push to regulate the chemical in inhalers has been under way since 2006. It stems from an international treaty signed under the Reagan administration.

In lieu of Primatene Mist, the FDA has suggested users of the product get a prescription for sanctioned inhalers, such as those that use an "environmentally friendly" propellant known as HFA.

But with the clock ticking, the phase-out has raised concerns. The FDA has acknowledged it's been a challenge to get the word out about the looming change.
 Save the planet by banning inhalers for asthmatics???? Seriously?
Where is Burr on this?  Oh yeah, he's busy brown-nosing John McCain and running for Minority Whip.