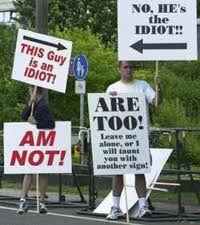 Some folks in Pitt County are pretty upset about a Pitt County Community College employee's reported involvement with the on-going, raging scandal at NCGOP HQ:
A statewide contingent of Republican activists will gather at Pitt Community College in Greenville Friday to protest the actions of PCC employee Ken Robol in the developing GOP central committee hacking scandal.  Robol, identified in multiple media accounts as a paid political consultant, admitted to WNCT-9 television his involvement in offering to hack into NCGOP computers in a sting operation against NCGOP chairman Hasan Harnett.
The gathering, scheduled for 12 noon, will ask for serious investigation into the NCGOP leadership and their agent Ken Robol to force them to come clean and tell the truth about what was done and who is responsible.  Additionally, we request an FBI investigation into possible illegal computer hacking and central committee hate incidents generated against Harnett, who is the NCGOP's first African-American chairman.

"Robol's documented offer to the chairman to hack into the state GOP website is unethical and bordering illegal — and not the kind of behavior we need to be teaching our children with the taxpayer's money," said Todd Bennett, leader of the ad hoc group.  "If Robol is indeed the innocent patsy as he is sharing back-channel, then he needs to come clean and expose Executive Director Dallas Woodhouse and those on the central committee that put him up to this.  The power or coercion by GOP officers is not something we can eliminate at this point. We are just searching for the truth."
Robol is the GOP Third Congressional District webmaster.  As well as being a full-time professor at PCC he teaches a class at DH Conley High School in southern Pitt County.
Robol's involvement first surfaced in Dallas Woodhouse's first pronouncement on alleged hacking of the NCGOP website.  Sources say Robol was the anonymous source Woodhouse and other party leaders referred to.  Robol's name surfaced in a Powerpoint released via social media by beleaguered party chairman Hasan Harnett. In the text screenshots, Robol appeared to be offering to hack the state party website. 
Media reports indicate the community college has launched its own internal invesigation of Robol's alleged involvement in the affair.