#hayesscandal: rearranging the deck chairs, everyone going down with the captain
Things are going from the sublime to the ridiculous.    Here's the press release NCGOP HQ put out today:
Chairman Hayes today announced he has relinquished most of his day-to-day duties of managing the NCGOP to other constitutional officers.  

"In the best interest of the party, I make this announcement today and will let our respected officers lead on a temporary basis until our regularly planned party elections this June," said Hayes.
HOW is this any different from what has BEEN happening?  The details of the indictment were the first evidence of Hayes doing ANYTHING I've seen since he got installed via coup.
MORE:
"After a long and distinguished career in public service at the local, state, and federal levels, Robin volunteered his time helping to support the Party and candidates for office in North Carolina. We look forward to a swift conclusion to this matter and clearing his name," said Hayes' attorney Kearns Davis. "Meanwhile Mr. Hayes, in accordance with NCGOP Rules, will allow others to lead while he heals from recent health setbacks."  […] 
Does that "long and distinguished career" include his time in the North Carolina House where his colleagues nicknamed him "The Old Porch Dog"?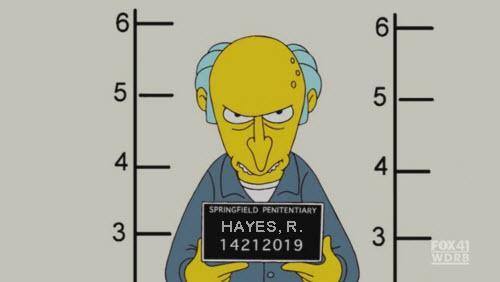 And "heal[ing] from recent health setbacks"?  Seriously?  We're just going to act like the federal indictment on FIVE CRIMINAL counts just isn't there?  Like it's all a bad dream?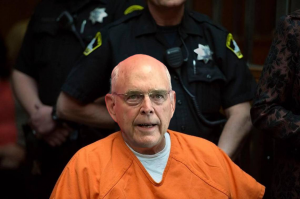 (By the way — the usual method for getting off the hook in the federal judicial system involves ratting on someone federal investigators find more interesting than YOU.  Will Robin snitch?  That's to be seen.)
MORE:
[…] Under Article VI.B.4.a of the NCGOP State Plan of Organization, the Party's governing bylaws, "the State Chairman may delegate authority to District Chairs to act on his behalf on any matter." Chairman Hayes has appointed 11th District Chair Aubrey Woodard to assume the role of Acting Chair of the North Carolina Republican Party.

"The North Carolina Republican Party is governed by a strong set of rules and governing structure. While I empathize with Mr. Hayes and believe in him, this is the best move for the NCGOP during this brief time of transition," said Mr. Woodard. "I look forward helping the NCGOP as we head into the State Convention." […] 
Soooooo – the guy under federal indictment for FIVE CRIMINAL COUNTS gets to pick his successor and determine how things are going to proceed?  (ARE YOU KIDDING ME ????)
That may be how it works in the mafia.  But I don't know of ANY reputable organization that would allow something like that to stand.
MORE:
[…] Hayes also announced that Finance Chair K.D. Kennedy and NCGOP Treasurer Jason Lemons would assume expanded roles in the day to day operation of the Party's finances. […]
Jason Lemons has found handling the Harnett County GOP's finances extremely challenging. (He's been reprimanded and fined multiple times due to his efforts there.)  And we're going to give him MORE influence over the state GOP finances?
Oh, and Lemons is one of three strong possibilities for having aided and abetted a wire transfer at the center of the sting operation that nailed Hayes.  Are we 100 percent sure that he's not going to be dragged into this ongoing probe?
MORE:
"The Republican party is not about one person," stated Kennedy. "It is a shared set of principles and ideals. I have invested in those principals in the past and will continue to do so in the future. I am more than willing to fill in during this short time reassuring our investors that the NCGOP is fully operational and well positioned to fulfill its mission."

National Committeewoman Dr. Ada Fisher offered support for Mr. Hayes' decision and him personally. "Robin Hayes has to my knowledge always reflected the best interest of my state, the Republican Party, and other good works without a hint of impropriety.  This country and my Party have been founded on the principle of the rule of law with our firm belief that people are innocent until proven guilty. I support Mr. Hayes in this move." […]
Dr. Fisher sure was upset last night about being kept in the dark about this whole affair.  It's interesting that they couldn't get a quote from her RNC colleague, state Rep. Mark Brody.  I don't believe he would have been so diplomatic.